Ex-BBC creatives' new agency 'Meanwhile' being fronted by Happy Monday's Bez is more than just a gimmick

Meanwhile has launched.
Former BBC creative directors Tim Jones and James Cross, together with the former managing director of Chapter, Alastair Marchant, have announced that their widely anticipated start-up creative agency, Meanwhile, is now open for business.
The announcement included pictures of the trio with Happy Mondays' Bez and his trusty maracas.
A gimmick? Yes, most definitely.
But launching alongside one of Manchester's finest is no accident.
It is an expression of the agency's heritage, as well as where they believe the future is.
Proud of its North West connections, this new agency hopes to help create brands, support in-house creativity and launch its own digital platform.
Lucy Smith, the editor of Creative Moment, spoke to the founders to find out why they made the move, what drives them and what we can expect in the years to come.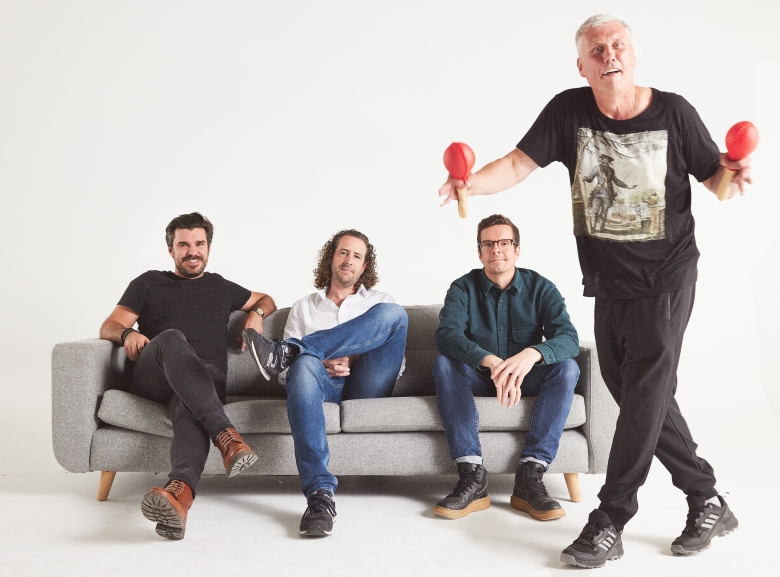 Congratulations on the launch of the new agency. So, how does one of Manchester's finest, Happy Mondays' Bez, fit in?
James Cross: We wanted to make the best founder's photo ever. One that people could actually enjoy and remember fondly. So rather than the usual, and rather dull, 'stood on stairwell', 'sat in cafe', or 'leant against exposed brickwork', we decided we needed Manchester's ultimate hype-man, and called Bez. For us he evokes joy whenever he pops up so we decided we'd ask if we could borrow some.
He stands for the unconventional and punk, and that's something we value and want to be for our clients too.

I think we'd also describe calling Bez in as a very 'Meanwhile' thing to do. Our name is, very deliberately, a simple and constant reminder to us to always question the status quo. There's the traditional way of doing things, which is fine, but Meanwhile, is there a better way?

As you say, being from the North West gives you a unique perspective. What specifically are you offering to brands/clients?
Alastair Marchant: We're closer to the audience, geographically and in mentality in our eyes. It's very much about a perspective that we don't think you can necessarily get from Soho or Shoreditch. We don't think the traditional locations of creative agencies breeds enough understanding of what life is like outside the M25, frankly.
There's no research that trumps lived experience in our view.

Tim Jones: Ultimately though, we truly believe a great agency can be based anywhere there's great talent. And nowadays, you don't even need to be located in the same physical place.
We're an agency in Manchester, not a Manchester agency.
It's by no means an 'anti-London' statement – there's loads of amazing talent in London – but there's also loads of talent in the north, and Manchester works for us and our clients too.

What kind of briefs are you looking forward to receiving and working on?
JC: We want clients that are ambitious and looking to move the needle in their sectors, because, given our collective experience, that's our strength. In the main, we are best suited to being a lead creative agency, driving big creative campaigns and film assets, but we're also looking forward to working across the marketing mix.
We've developed a reputation for large-scale stunts that make noise and grab attention.

TJ: We're also excited about helping to create brands. More than anything, we'd like clients to bring us problems rather than solutions – that we can approach from a, excuse the jargon, channel-transcending, strategic and creative perspective.

We also plan to work closely with our clients' in-house teams and agencies because we've been there, we get the politics and we think we can add real value to the business they represent. We want to offer the creativity that may not be so accessible in-house, leading on the big ideas and helping out where needed.

From the BBC to your own creative trio, client side to agency side, what are you expecting in the next 12 months?
AM: Who knows?! That's what makes it so exciting. We're just really excited about being masters of our own destiny, and ensuring we work with clients who like us, would rather set agendas than follow them.

We're also busy working on our own proprietary digital platform.
'The MeanMachine' will give clients unique access to the inner workings of the agency.
Kind of like a 'Deliveroo for advertising'—cutting through the usual agency smoke and mirrors to provide a real transparency and cut out lots of admin so we can focus on building relationships and adding value. We expect to launch a beta version in the next 6 months. So exciting times all round!

If you enjoyed this article, you can subscribe for free to our weekly email alert and receive a regular curation of the best creative campaigns by creatives themselves.