Faroe Islands are closed for maintenance, but open to some great publicity

The Background
If you're looking for creative campaigns that are based on simplicity of idea and getting loads of people talking then you could do a lot worse than those by destinations.
Be it from official tourism bodies, hotels or airlines, destinations have, of late, been doing some great stuff. I've already reviewed the Palau Pledge on Creative Moment, a tourism campaign which takes some beating in my opinion. There was also New Zealand being memorably left off the map and AeroMexico's divisive 'DNA discount' idea. But it's also worth looking at a triumvirate of Scandinavian destinations that seem to specialise in offbeat ways to sell their tourism products – more Scandi haha than Scandi noir.
Iceland has had its 'Honorary Islander' and 'Stopover Buddy' scheme (recently rehashed as a 'Dial a Buddy' service). Sweden had its much-lauded 'Call a Random Swede' idea and the Faroe Islands has done a series of Google-themed ideas in the past including Google 'Sheepview' and its own, live, version of Google Translate for Faroese.
And it's the Faroe Islands I'll be sticking with here, reviewing a pretty ambitious sustainability stunt they recently announced.
The Big Idea
Although it was initially launched in February 2019, the date the idea is based around actually coincides with the release of this review.
In short, Visit Faroe Islands, the destination's tourism body, announced that the Faroe Islands would be 'closed for maintenance' on the last weekend of April.
That meant no tourists could visit the country on those days except for 100 volunteers. In exchange for free food and accommodation, those volunteers would work side-by-side with locals to help improve walking trails and tourist facilities to help 'preserve' the Faroe Islands for its 60,000 regular holidaymakers.
What They Did
As far as content goes, not a huge amount: a simple photo of a Faroe Islander hammering a wooden sign into a coastal path reading 'closed for maintenance', a campaign video, featuring plenty of nice drone photography of the island and an announcement to camera from the country's Prime Minister.
There was also a campaign website where people could learn more about why the nation was 'closed for maintenance' and sign up to be a volunteer.

But what it lacked in advertising and PR materials it made up for in sheer ambition.
The Faroe Islands may be a small country with a tiny population of around 49,000, but shutting down a nation's entire tourism industry – even for two days – surely requires a huge amount of effort, support and buy-in across the board, from the smallest of tourist-dependent businesses to the top ranks of government.
The idea was apparently the brainchild of Visit Faroe Island's boss Guðrið Hojgaard. And having the sway to convince a whole country to close itself to tourism as a way to actually promote more tourism shows just why she was recognised by Politico as a person that would 'shape Europe' in 2019.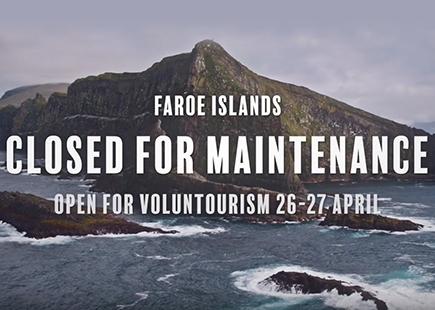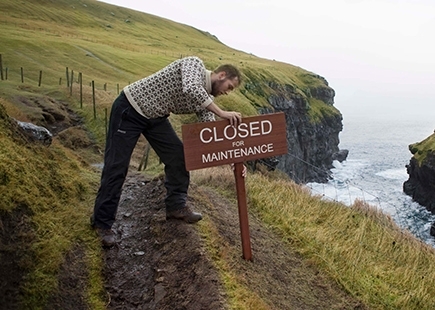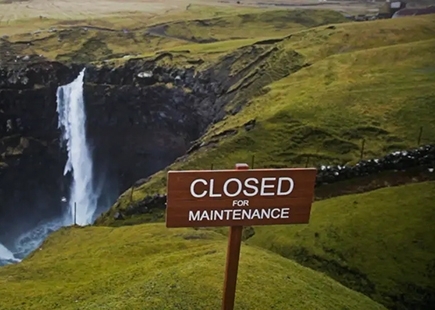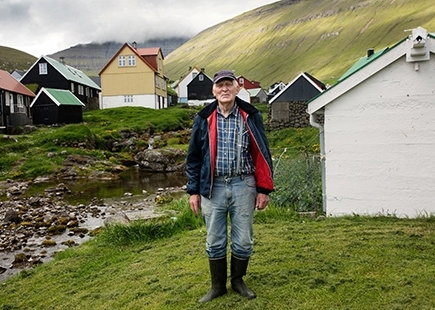 The Review
As one Guardian article said of the Faroe Islands: "it rains 300 days a year, a national dish is wind-dried fermented mutton and the population of 50,000 people is outnumbered by sheep". So it's fair to say that the Faroe Islands are not going to be at the top of most must-visit lists.
But yet, through ideas like this one, and those that preceded it, Visit Faroe Islands has used inventiveness, humour and fine PR creativity to punch above its weight and command huge audiences.
Despite limited marketing resources, every idea the tourism organisation has done has made millions of people aware of the Faroe Islands' existence, its viability as a holiday destination and shone a light on the country's key selling points: its culture, its people and its natural environment. In the process they've won Cannes Lions and had all the coverage.
You could argue that this idea lacks oomph in a marketing sense and that they've missed an opportunity to really make this big.
Indeed, it's very easy to see how this idea could work as a TVC or as an OOH and print campaign. But Visit Faroe Island admits it has limited budget to spend on paid media. So practicalities mean they have had to pin their hopes on earned media and social media to spread the word. That has certainly paid off for them, and that's down to the strength of the idea and the manner of activation. It looks like they've had blanket press coverage and the campaign site claims they have been inundated with thousands of requests from wannabe volunteers.
Scale, or lack thereof, has been cited before as a reason for why PR campaigns don't tend to do well at Cannes.
Well, Visit Faroe Islands has done decent business there in the past without scale, and I'm sure this little-big idea won't go unnoticed either.
In Hindsight
The idea of closing a country to tourists to promote tourism is a classic example of boosting demand by restricting supply. And if you scour the archives you'll probably find other ideas of a similar 'banning' mould. But that shouldn't take away from this idea, which was handled skillfully and in a playful and friendly manner befitting the destination brand the tourism body had created over the years.
Where other destinations struggling with a rise in tourist numbers have been quick to point the finger at those holidaymakers, the Faroe Islands didn't demonise tourists for running amok in their country. 'Closing' the island was framed as a way to help improve the tourist facilities for a country in its tourism infancy so that future visitors will have an even better time.
In so doing the islands' tourism bosses have been able to very cleverly tell a clear sustainability story while appearing not to turn their backs on holidaymakers.
Sure there might be some that object to being told they can't visit a country on a particular weekend in April, but I imagine the vast majority will see the actual positive, welcoming sentiment in the idea.
And at the end of the day, good or bad, lots of journalists and people are all talking about a tiny archipelago in the sea between Scotland and Iceland that they might never have heard of before.
If you enjoyed this article, you can subscribe for free to our weekly email alert and receive a regular curation of the best creative campaigns by creatives themselves.