Halloween Thrillboards: Meta Reality Labs launches fully immersive experience for Quest 3

Meta's Reality Labs has unveiled its disruptive, fully immersive, 'Halloween Thrillboards' in the heart of Shoreditch, to mark the launch of the Meta Quest 3 and as part of their 'Expand Your World' consumer campaign running until the end of the year.
This activation offers people the chance to step into a billboard and experience the worlds of two huge entertainment franchises available as games on the headset: Ghostbusters and The Walking Dead, blurring the lines between the real and the virtual. Just like the new mixed-reality headset.
Running between 27th - 29th October at Protein Studios, London, these chilling billboards, created by AMV BBDO and UNIT9, may appear normal at first glance but offer an experience that transcends traditional boundaries. Members of the public will have the opportunity to enter the world of the games, stepping directly into specially crafted billboards of their favourite horror titles before enjoying an exclusive demo of Meta Quest 3.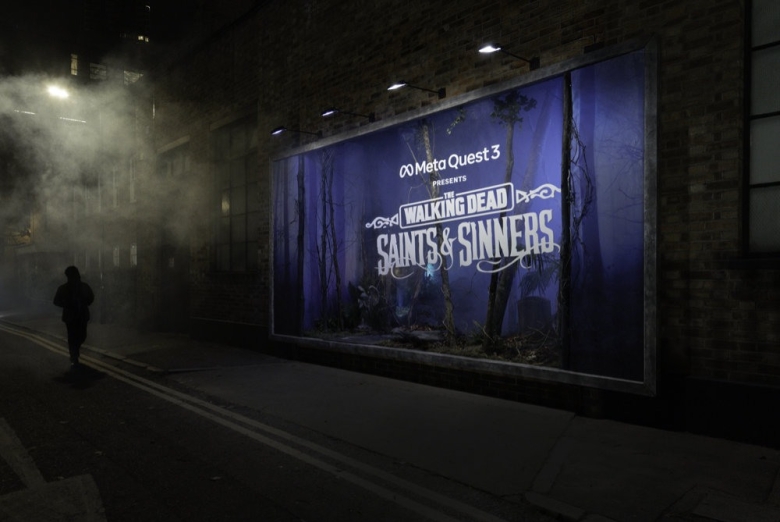 The ambition of the activation is to showcase Meta Quest 3's ground-breaking technology and make it the most requested and gifted item this holiday season.
Demonstrating the next level of immersive technology, it aims to engage consumers with spine-tingling adventures of exclusive content from Ghostbusters: Rise of the Ghostlord and The Walking Dead: Saints & Sinners, broadening virtual reality's appeal beyond gaming audiences and showing the experiences available with Quest 3.
The Thrillboards employ a mixture of set design and special effects to create the appearance of a two-dimensional poster, before guests cross the boundary, the illusion is broken and the two realities blur. They are then transported through an immersive theatre experience, emulating game play culminating in a trial of the new headset.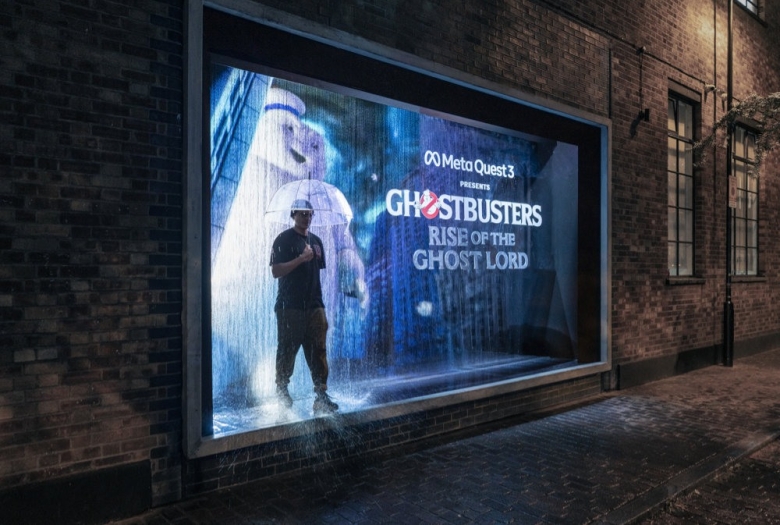 AMV BBDO creative directors Michael Jones and Thomas Hazledine said, "Unlike most Halloween launches, games on the new Meta Quest 3 is a world-expanding experience that blurs the lines between gaming and reality. Thrillboards activates this experience, casting our visitors not as spectators, as typical billboards do, but as active participants, both in real life and on the Quest, launching them straight into a reality bending immersive journey".

This campaign was led by Meta Reality Labs Marcom and in-house creative agency Creative X, in partnership with AMV BBDO and UNIT9, who managed creative and production respectively
Credits
Client: Meta
Brand: Meta Quest 3
Campaign title: Meta Quest 3 Thrillboards
Client name: Jason Miller
Creative Agency: AMV BBDO
CCO: Nicholas Hulley and Nadja Lossgott
Creative Director: Michael Jones and Thomas Hazledine
Creative Team: Charles Olafare, Josie Finlay, Safaraaz Sindhi, Stephanie Symonds, Ian Partick and Chelly Brown
Agency Planning Team: Yolanda Davis and Alice Aldridge
Agency Account Team: Dorothy Tang, Amy Tippen-Smith, Alex Sandford Smith and Richard Moloney
Agency Producer: Ian Whittle and Maggie Scriven
Agency Designer: Javier Auguste and Ian Patrick
In-House Creative Agency: Creative X – Jorge Calleja (Executive Creative Director), Stephania Silveira (Group Creative Director), Robbin Ingvarsson (Group Creative Director), Natalie Ranger (Creative Director), Pascal Meline (Producer), Bryony Cook (Producer) and Sofia London (Producer)
In-House Media: Tobiloba Fani-Kayode
In-House Comms Strategy: Bea Frigerio
In-House Influencer Marketing: Bukunmi O-Thomas
Media Agency: Spark
PR Agency: H+K
PR Account Team: Priya Sund, Emma Franklin-Wright and Linsey Rossell
Influencer Agency: Fanbytes by Brainlabs
Influencer Account Team: Harry Tidswell, Alborz Farahati, Louis Barrett and Stanley Hambidge
Production Company: UNIT 9
Director/Creative: Kate Lynham and Thomas Davis
Production Co. Producer: Eleni Willmott, Ulla Winkler and Paulina Pawlak
Post-production Company: Unit 9 and Blind Pig
Audio Post-production: Envy
CGI Animation House: Blind Pig
Creative Director & Animation Director: Ric Comline
Executive Producer: Thierry Levy
3D Animator: Lawrence Scanlon
Production Assistant: Susie Joseph
Shoot Director of Photography: Michael Beddoes
CGI Post-Production: Absolute
Colourist: Matt Turner
Sound Design: Rich Martin
If you enjoyed this article, you can subscribe for free to our weekly email alert and receive a regular curation of the best creative campaigns by creatives themselves.