Heritage brand Martin Guitar receives brand refresh from Coley Porter Bell

Global branding agency Coley Porter Bell, has partnered with the legendary Martin Guitar to evolve and strategically reposition the heritage brand.
Founded in 1833, C.F. Martin & Co. is known for making the world's finest acoustic guitars with unparalleled craftsmanship and legendary tone.

Coley Porter Bell's brand refresh builds upon the history of the brand to help propel it forward as it approaches its 200th anniversary.
To answer the brief, Coley Porter Bell looked beyond the rational attraction of Martin Guitar, with its revered craftsmanship and legacy roster of musicians and looked towards creating more of an emotional connection with established and future players; resulting in a new purpose "to unleash the artist within".
The new visual system includes an optimized logo, expressive typography, a refreshed imagery style that puts the artist at the forefront, an expanded colour palette and a new design system, with animated textures and motifs—inspired by the frets and strings—that represent the unique expressions of the artist and the different emotions that music creates.

The new colour palette reinforces the use of Martin Guitar's famous green as its core brand colour, a shade that has donned its guitar cases since the company's founding - and also enlists fresher, more vibrant colours to amplify the palette and give richer visual depth to the brand's expression.
The new look extends across all customer touchpoints from social media and the brand's website, new advertising and trade show experiences, offering a unified look to engage established Martin Guitar enthusiasts, as well as the next generation of artists.

In addition to the core refresh, Coley Porter Bell flexed the identity for the brand's custom shop to communicate the bespoke and personalized experience one has to purchase a custom guitar from Martin. The branding illustrates how every detail is considered, using schematics and technical drawing, supported by a refined colour palette and photography style that celebrates the makers and the materials that build the
custom experience.

Mike Nelson, vice president of marketing at C.F Martin & Co said: "We are excited to unveil our new visual identity and new brand strategy. The results exceeded our expectations and Coley Porter Bell has been an amazing partner on every step of the journey."

Jenn Szekely, President of Coley Porter Bell said: "We were entrusted by the Martin family and company to help this iconic American brand tell its story to its current and next generation of artists. This opportunity to reposition a brand so rich in legacy and artistry was an honour and not taken lightly. The new branding has the artists at its heart. From the dedicated loyalists who bond over Martin all around the world to the new and emerging players discovering the Martin tone and experience for the first time, Martin is the partner that is helping them "unleash the artist within".
And in the words of legendary singer, songwriter and musician David Crosby: "Martin is a company America should be really proud of because it has never compromised, it's never done less than its best, it continually makes the best instruments in the world." – David Crosby: Byrds & Crosby, Stills and Nash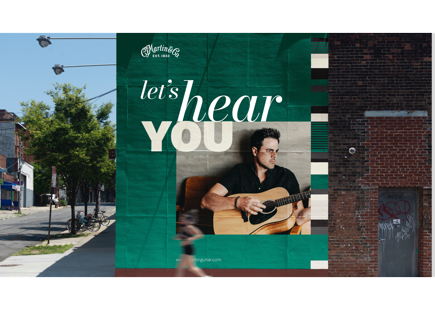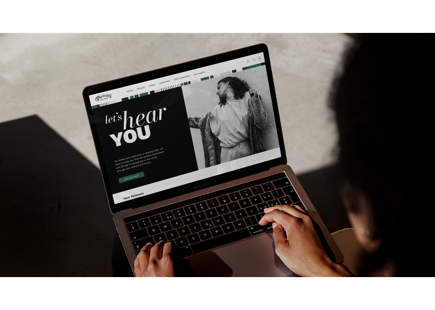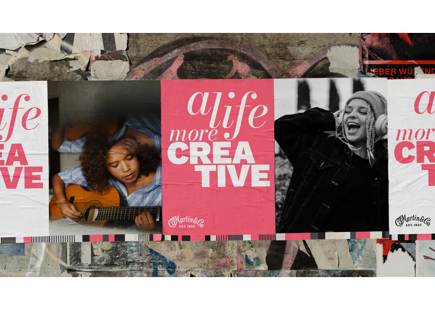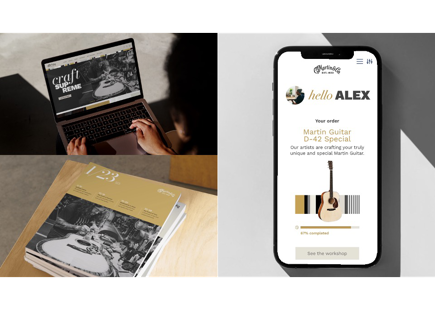 Credits
Martin Guitars
CEO: Thomas Ripsam
VP of Marketing: Mike Nelson
Creative Manager: Mandee McEvoy
Marketing Communications Manager: Kristi Bronico
Senior Digital Marketing Manager: Amy Kreider
Graphic Designer: Vanessa Goffredo
VP of Sales and Customer Engagement: Mitchell Nollman
VP of Product Management: Fred Greene
VP of Global Manufacturing/Operations: Jeff Allen
Coley Porter Bell
Group Creative Director: John Malozzi
President: Jenn Szekely
Executive Creative Director: James Ramsden
Strategy Director: John Clark
Strategist: Andy Humphreys
Account Manager: Alice Lee
Design: Alison Dyer
Design: Linda Becker
Motion Design: Yukari Schrickel
Design: Sam Knott
Design: Steve Ferrier
Design: Ben Davidson
If you enjoyed this article, you can subscribe for free to our weekly email alert and receive a regular curation of the best creative campaigns by creatives themselves.