How female-owned business ohne fights to change the Gender Health Gap in the UK
I have been following ohne (pronounced on) for a few years now and it has been so incredible to see the lovechild of Leah and Nikki grow.
It started as a self-proclaimed 'small bullsh*t-free period and menstrual cycle care' female-owned brand, selling its own products. But, it has recently expanded to become a community-curated destination that stocks over 24 mission-led brands covering everything from sexual wellness to women's health products. Personally, it's my go-to place for all things hormonal.

In its latest campaign, ohne has worked to address the Gender Health Gap in the UK.
It comes after a recent government study of 100,000 women revealed that 84% had experiences where they felt they had not been listened to by healthcare professionals. Coupled with the fact that around 70% of Google searches starting with "is it normal…" pertain to the female experience, this campaign is highly relatable, and preaches to the choir loud and clear.
It fills me with so much joy to see billboards and fly posters dotted around London that are so unapologetically bold yet so simple—all in that papaya orange I automatically associate with ohne.
We've seen the search engine mechanic used so much in print, before but this one feels different. It's not try-hard, or unrealistic or hiding the taboos.
And it's certainly not a headline aimed at women, mansplained by someone who thinks they know what it feels like. It's putting thrush and period pants front and centre. Ohne has always had an honest and informal tone of voice with an air of sass, and it's carried out perfectly in this execution.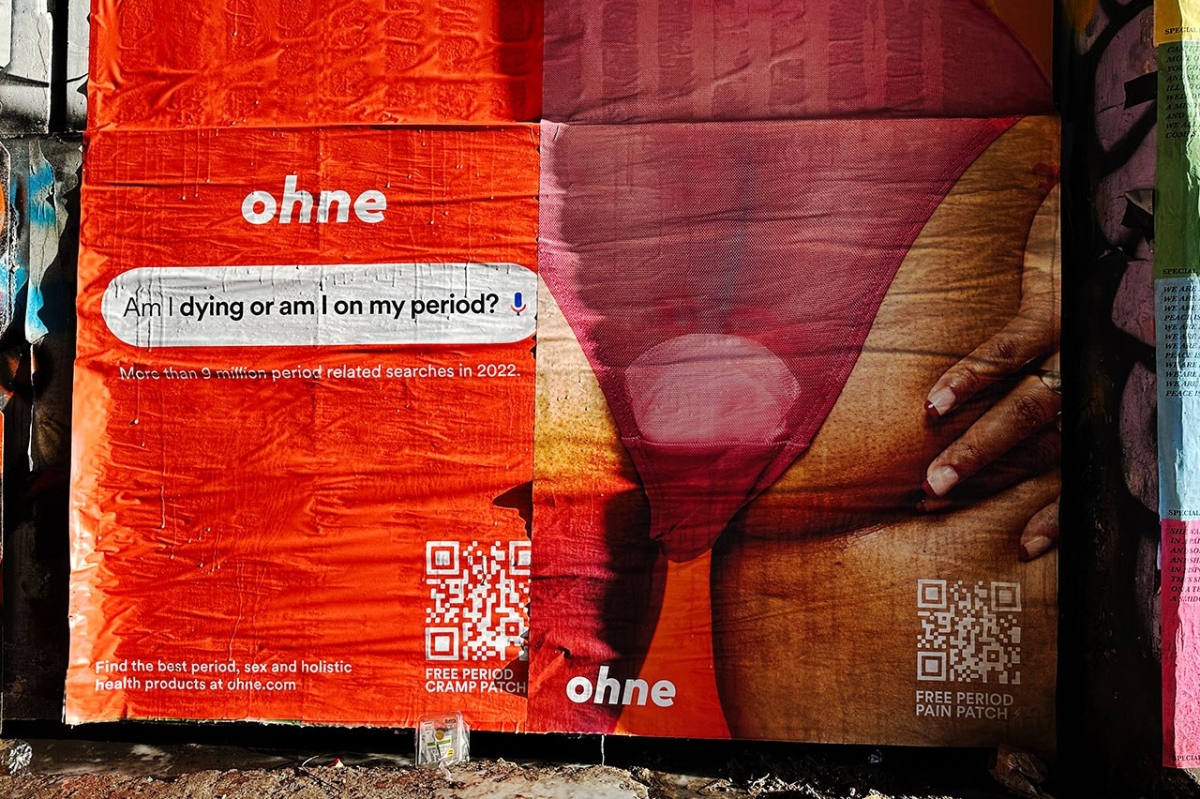 While a message like this shouldn't be revolutionary today, I'm glad to see it in all its glory.
By using data to drive this campaign, it backs up the need for a serious relook at education surrounding women's bodies. Especially since ohne found that only 3% of people in the UK can recall learning about gynaecological issues like endometriosis and PCOS at school (I definitely didn't!).
Ohne has since purchased 144 Google search terms that will lead those searching the internet for answers to ohne's dedicated landing pages, much like the QR codes on each poster take you to different subpages depending on the topic.
The simplicity is chef's kiss. I wouldn't even be mad if they asked for the logo to be bigger.
So, that's my spotlight this International Women's Day, I hope you've enjoyed this read.
If you haven't already, check out ohne and follow them on Instagram @im_ohne.

If you enjoyed this article, you can subscribe for free to our weekly email alert and receive a regular curation of the best creative campaigns by creatives themselves.