Is Barbie still relevant on her 60th birthday?

The Background
Okay so this isn't new. It was actually released in 2015, but somehow I missed it.
It caught my eye courtesy of creative director Dave Trott sharing it recently on Twitter and it immediately got me. And I'm clearly not the only one with its enviable 25 million and counting views.
It may be old, but it couldn't feel more current.
It just so happens to be Barbie's 60th birthday this month, so that felt like a decent enough reason to review it.
The Big Idea
Barbie has been (quite rightly) under tons of scrutiny for years.
Her anatomically impossible body, her general tits-and-teeth-how-can-I-help-you-today-ma'am-ness. But her manufacturer Mattel has been taking great leaps forward to reinvent her for a new generation of parents and kids, in a move to turn around tumbling sales as she lost relevance and, more importantly, became the pin-up for what we don't want for our kids.
We started to pay attention when a few years back Mattel introduced 78 news dolls, embracing diversity at last – evolved body shapes, skin tones, hair types, she could even flex her ankles to accommodate flats. Great job.
And then in October 2015 this film landed, entitled Imagine The Possibilities.
What They Did
The film starts with the words "What happens when girls are free to imagine they could be anything?" and what follows is two minutes of joy as young girls live out their professional futures in the company of unsuspecting adults. One girl stands proud in front of a room of students delivering a biology lecture. Another takes the role of coach for a male sports team. And another tends to (mildly) sick animals as a vet.
The kids' confidence and glorious turn of phrase combined with the bemused expressions of the grown ups work brilliantly, and we're hooked by the time the 'lecturer's' human, adult audience suddenly switches to a row of barbies and we see our little girl in her room acting out the fantasy.
We end with the line "When a girl plays with Barbie she imagines everything she can be".
Glorious.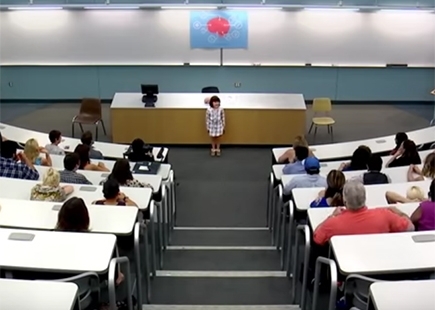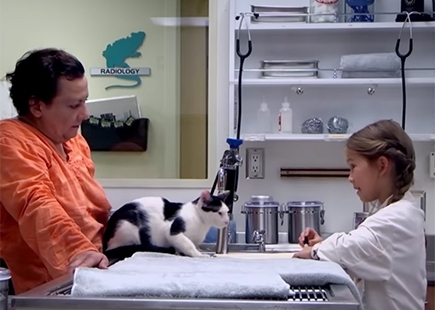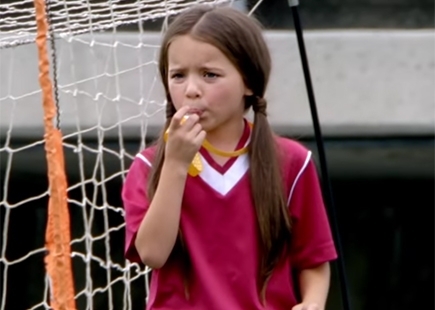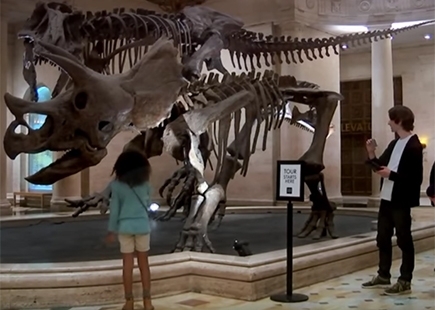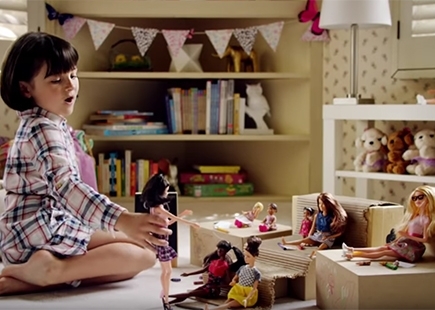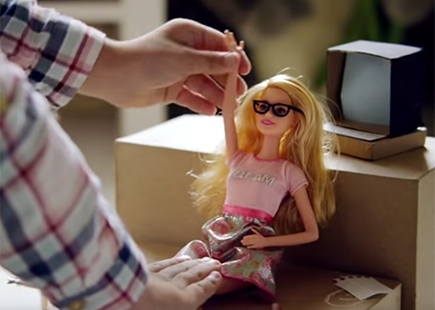 The Review
So there's a number of things at play here.
Perhaps most significantly the brilliance with which the creative team reinvented Barbie, whilst ensuring she remained true to her creator's original vision – "through the doll, the girl could be anything she wanted to be. Barbie always represented the fact that a woman has choices." And of course the idea simply works – what parent doesn't want their kids to strive to be all they can be?
Barbie having a 'profession' isn't new – she's actually had more than 150 over the years – everything from a doctor to a veterinarian to a 'business woman'. She even ran for President two decades before America's first female candidate. But it was all 'dress us' as opposed to actually being.
What I also love about this was what caught my eye in Dave Trott's original tweet "How to sell your product honestly and at the same time be an influence for good (Gillette and Pepsi please note)". Bang on. This is true purpose work.
I've rather rudely referred to the recent Gillette work as looking like it had been churned out by AI. That's the antithesis of this.
This is honest. It's real. It simply makes me happy.
In Hindsight
A few years back my daughter was given a Barbie as a birthday present and I cringed.
Mattel still has a long way to go to undo the crimes of the past, but I can say truthfully that from where I'm standing Barbie's looking pretty great at 60.
If you enjoyed this article, you can subscribe for free to our weekly email alert and receive a regular curation of the best creative campaigns by creatives themselves.