Kind Snacks reveals 100 metre wide good luck message for lionesses as they fly down under

KIND Snacks, official partners of the England Football Team, partnered with the FA (Football Association) and Ready10 Media to create a message of support the size of a football pitch, that was visible from the sky as the Lionesses headed to Australia to get acclimatised ahead of the World Cup that begins on 20 July.

The 100 metres wide by 20-metre tall message, could be seen from 20,000ft high on the Heathrow flight path at Thornbury Park as the team departed for Australia. Thousands of individual messages made up the sign showing support from fans up and down the country as part of KIND's efforts to ensure the team was fuelled with motivation ahead of their first game on 22nd July. Messages were also supplied by former football internationals Faye White and Rachel Yankey.
As part of the partnership, KIND Snacks sat down with Lionesses Chloe Kelly, Niamh Charles and Laura Coombs to talk about what generated motivation for them, and the positive impact that the messages and support from fans, friends and their families have on them.
Kelly said: "Seeing more fans at games and receiving more messages […] and how we've made a change to people's lives, that's really special to us."
Charles agrees: "My first initial coach […] always messages and says 'good luck' or 'well done' and that's something I really appreciate because I have so many fond memories of playing with him".
When talking about how it will feel playing so far away from home and the support of the England fans, Coombs said: "The women's football community […] make such an effort, and they'll be watching the games even though they're on in the morning. One hundred per cent we'll still feel really supported".
Kelly adds: "We feel the support, even from afar […] Growing up we look up to players […] and now we see young girls who look up to us as well so it's great to see how far the game has come."
The warmth of fans can be felt in the thousands of messages collected by KIND, with people from all over the country wishing the Lionesses well and sharing their personal stories of how the players have fuelled them personally.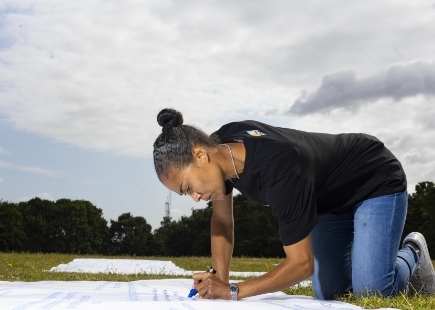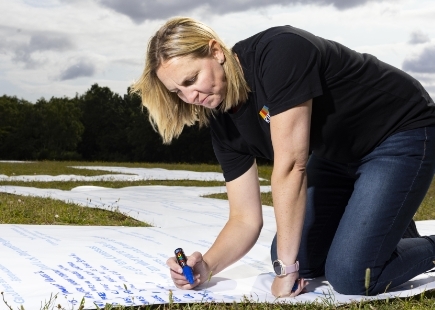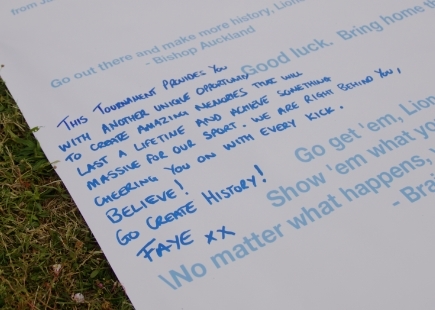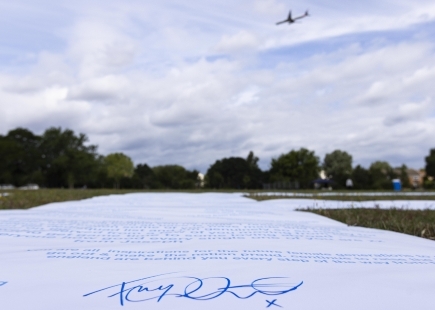 One fan's message said, "I want to wish you guys the best of luck as you embark on this fantastic adventure to Australia. You guys are a remarkable group of people", while another said, "Keep being an inspiration for girls and women everywhere!".
As the sign was revealed, former internationals White and Yankey were also in attendance at Thornbury Park, to write their own messages on the sign to cheer the girls on as they flew off to represent England.
Faye White wrote, "This tournament provides you with another unique opportunity to create amazing memories that will last a lifetime and achieve something massive for our sport. We are right behind you, cheering you on with every kick. BELIEVE! Go create history!"
Rachel Yankey wrote, "Sending my best wishes and unwavering support to the Lionesses as they embark on their journey to Australia. Believe in your talent, resilience, and unbreakable spirit. Leave your mark on the pitch, and we know you'll make our country proud!"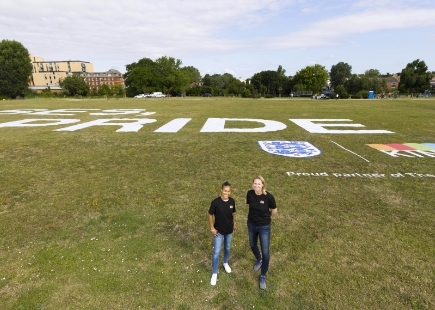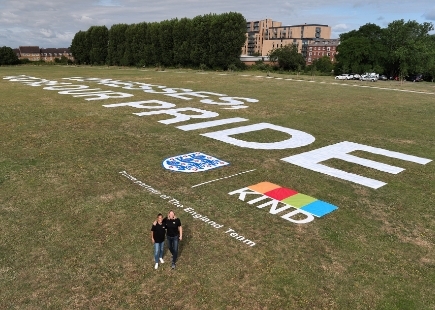 Credits
Creative and Project Lead/PR: Ready10
Client: Kind Snacks
Installation/Production: Upfest
Print: Blink Giant Media
Video Production: Detail Films
Drone: Aerial Craft
Location: Film Fixers Hounslow Film Office
If you enjoyed this article, you can subscribe for free to our weekly email alert and receive a regular curation of the best creative campaigns by creatives themselves.