Lioness Fran Kirby helps CALM with a campaign to call attention to the rising suicide rates in young women

Campaign Against Living Miserably (CALM) has announced a new campaign featuring England Lioness and CALM ambassador Fran Kirby, to tackle the rising rates of suicide in young women under 25.
Over the course of this summer's biggest football tournament, it is estimated 14 young women in the UK will take their own lives with recent ONS data revealing that one woman under the age of 25 dies by suicide every two days.
UnseenSignals, created by VMLY&R London, aims to challenge the stigma and stereotypes that prevent women from being supported and help equip people with practical tools to take action and help save a life, as almost a fifth (19%) of young women aged between 18-34 in the past 5 years have felt either dismissed or invisible when speaking up about a mental health crisis.
Known for her emotional storytelling, the hero film was directed by Natalie Rae through Object & Animal. Fran Kirby is the focus of the action as she goes down in agony after being fouled, hand raised. She needs help. But the game continues around her. The whistle isn't blown. She calls out. The game continues. She's invisible. The players, the referee and the crowd are oblivious. There is no help coming.
The powerful work draws on parallels faced by young women who are suicidal, whose calls for help can all too often be misunderstood or go unrecognised. The film ends with the message 'no signal for help should go unseen. Your support could help save a life'.
The film was crafted using a mix of existing gameplay and green screen moments of Fran calling for help and struggling. Key angles were carefully captured, matching focal length and camera zooms to the real game footage. In post, with the teams at Framestore and The Assembly Rooms, an effective flow of shots and visual effects were developed using both real and re-created game backgrounds to tell the dynamic story. Ultimately, encapsulating the feeling of a real broadcasted match.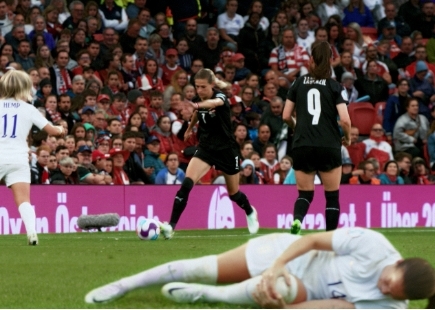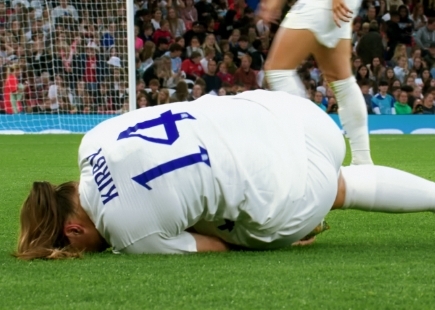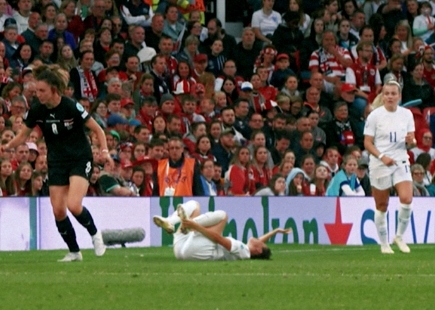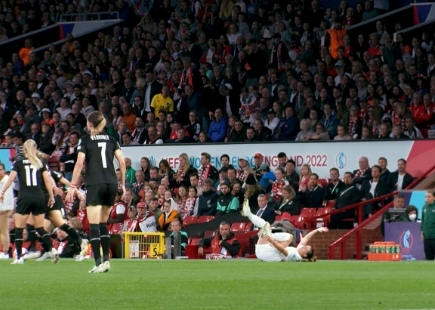 Credits
Client: Campaign Against Living Miserably (CALM)
CMO: Matt Jennings
Marketing Director: Dipika Saggi
Creative Director: Danny Wright
Project Manager: Elle Abu-Nimeh
PR Lead: Shervin Behzadi
Editorial Lead: Annabelle Letten
Agency: VMLY&R
Production Company: Object + Animal
Director: Natalie Rae
Founder/EP: Dom Thomas
EP: Laura Hegarty
Producer: Lucy Sherwood
Production Manager: Jane Linfoot
Production Assistant: Ele Baldwin
Location Manager: Sally Thomas
DOP: Olan Collardy
1st AD: Rob Thorpe
Sports Choreographer: Amanuel Kahsai
Costume Designer: Abena Ofei
Hair & MUA: Temi Adelekan
Hero Talent Casting: Entourage Sports + Entertainment
Hero Talent: Fran Kirby
Director of Operations:Sophie Cowan
Client Manager: Callum Noad
Edit: The Assembly Rooms
Editor: Ed Cooper & Eve Ashwell
Edit Producer: Phoebe Armstong-Beaver
Post-Production: Framestore
VFX Leads: Paul O'Brien & Darran Nicholson
Roto Supervisor: Melvin Puillia
Roto: Maxwell Lane, Asher Hunt & Tizoc Flores
Producer: Jake Saunders
Colour: Company3
Colourist: Matthieu Toullet
Audio: 750MPH
Audio Producer: Caroline Jemirifo & Natasha Redhead
Sound Engineer: Marcin Pawlik
Media Agency: 7Stars
PR Agency: Hope&Glory PR
Supporting Talent: Ally Irwin, Ellie Paris, Lauren Heria
With thanks to: Darren Eastwood, Amanda Levett
If you enjoyed this article, you can subscribe for free to our weekly email alert and receive a regular curation of the best creative campaigns by creatives themselves.