Mexican-wrestling and pizza: The ultimate tag team from One Green Bean

"…the delivery driver hits the chicken over the head with a pizza box, whips off his clothes to reveal a sparkly outfit, then floors the hero with a chair..."
These are words I never thought I'd say to a client. But I'm glad I did! It led to a joyous, high-flying, high-energy, high-laughs Domino's pizza launch event of ridiculous proportions. Unique. Unrepeatable. A you-had-to-be-there moment!

'WrestleMexicana' brought together Domino's new Mexican-inspired 'The Ultimate Chicken Mexicana' pizza with the UK's greatest Mexican-inspired wrestling troupe, Lucha Britannia. A combination which resulted in a one-off riot of colour and action hosted in Village Underground, Shoreditch. And was this the wildest pizza launch ever? The answer is "HELLLLLL YEAAAAH!"
This exclusive event sold out within minutes, and attracted talent from Love Island, Dancing on Ice, Married at First Sight—who enjoyed delicious slices of The Ultimate Chicken Mexicana pizza while a 6"2 chicken wrestled a man in a sequined cape.

It was a special event for Lucha Brittania.
They returned to the ring for the first time since the pandemic began. Many of its stars hadn't seen each other for three years. There were emotional reunions before taking to the ring to hit each other with chairs.
Branding for the event featured 20m banners flowing from the venue's high-ceiling, and fight night posters with illustrated versions of the luchadores. The whole production looked good enough for a Las Vegas title fight – from the ring, the lighting, to the grandstands, to the pizza 'shipping container' sampling counter. The sturdy construction ensured no pizza was harmed during the fights, even when the action spilled out of the ring and the mighty Illusionisto was smashed into the wall.
Custom wrestler characters won the crowd on the night, El Pollo Picante 'The Spicy Chicken' and Domino's-themed hero Diablo Dominato. Their epic showdown had the raucous fans on their feet. And ensured that all coverage featured these two stunning athletes – bedecked with Domino's branding and spicy-chicken imagery.
High-flying luchador Darcy Stone ultimately won the Lucha Chaos finale by pinning Patito Peligroso 'Aka The Dangerous Duckling'. The judges' final decisions were that Domino's was the unanimous victor…
And word is that after the success of the launch, Lucha Britannia is back baby! They might start up their regular wrestling events again. Good on them…the world needs more joy and mayhem… and lucha won't be defeated.
Will we ever see El Pollo Picante flap his wings again? Watch this space…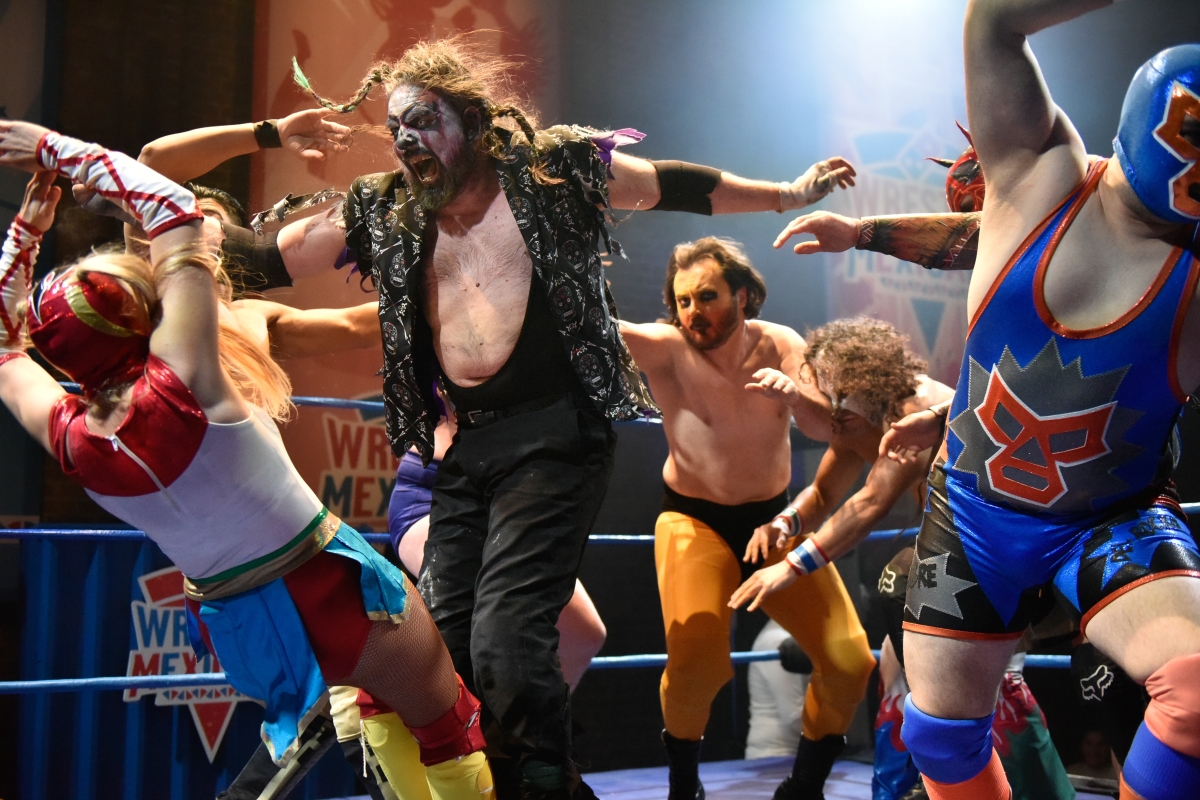 Image credit: Erin Docherty, Strangehouse Photo
If you enjoyed this article, you can subscribe for free to our weekly email alert and receive a regular curation of the best creative campaigns by creatives themselves.