Nothing fills a hole like a Pot Noodle in new work from adam&eveDDB

Pot Noodle showcases Pot Noodle as the ultimate hole-filling meal with a new campaign "Nothing Fills a Hole Like Pot Noodle".
The images show all manner of holes, including a pool table pocket, a bird house and a washing machine drum lovingly filled with the delicious noodles to demonstrate its hunger satisfying abilities.

Created by adam&eveDDB, the campaign also ventures into the debate around the pot-holed state of roads in Britain, where one road in every nine miles is in urgent need of repair.
The campaign, spanning digital outdoor ads, print, social media and PR, will also specifically target sites and media publications in locations notorious for potholes in Surrey, Essex and Northamptonshire.
The ads will also feature on a digital ad van which will drive down two of the potholiest roads in Surrey. Two of the targeted areas, Harlow in Essex and Brackley in Northamptonshire, are home to singer and pothole campaigner Rod Stewart and Mr Pothole respectively.
The campaign is shot by Emmy-nominated filmmaker, photographer and artist Frederick Paxton, of Academy Films.
As part of the campaign, social media activity includes a selection of filled-hole images that will appear on Pot Noodle's Instagram feed. A bespoke GIF sticker pack will also launch on Instagram Stories, enabling fans to add Pot Noodle to their own content and fill a hole, digitally - with the hashtag #NothingFillsAHoleLikePotNoodle.
The campaign is also supported by a PR partnership, created by W communications, with Mr. Pothole, an advocate for pothole awareness, who, as part of the launch, will be talking to the press and media to help raise awareness around the country's pothole problem.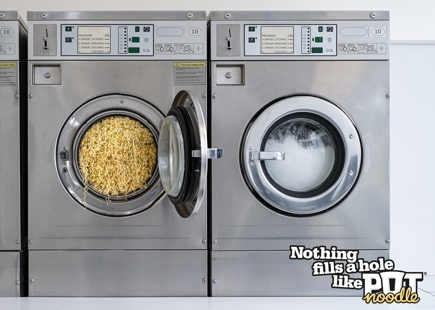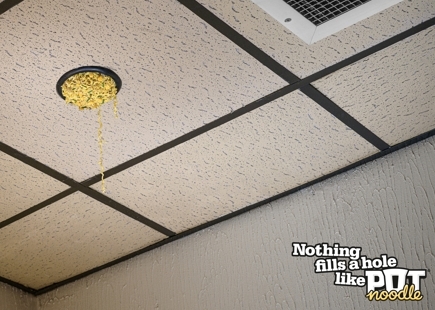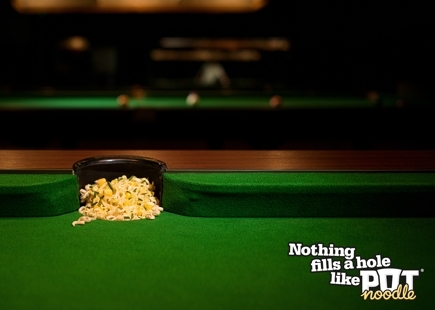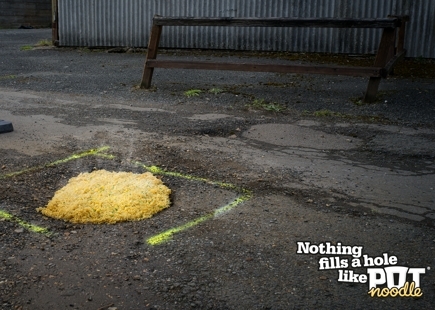 Richard McGrann, creative at adam&eveDDB, said: "In today's purpose-driven advertising, there can be no higher calling than plugging a hole on the B372 with a steaming hot portion of Bombay Bad Boy"
Andy Clough, creative at adam&eveDDB added: "Once you've stuffed a postbox with Chicken & Mushroom Pot Noodle, you begin to see a world full of opportunities."
The campaign will launch on Tuesday, March 28th and run across the week. The media will be handled by Mindshare.
Credits
Client: Unilever
Brand: Pot Noodle
Project/Campaign name: Nothing Fills a Hole Like Pot Noodle UNILEVER
Client, General Manager Foods (Nutrition): Andre Burger
Client, Marketing Director: Georgina Bradford
Client, Marketing Manager: Shannon Lennon-Smith
ADAM&EVEDDB
Chief Creative Officer: Richard Brim
Creative Director: Mark Shanley
Copywriter: Richard McGrann
Art Director: Andy Clough
Social Creative: Judith Tulkens
Joint Head of Integrated Production: Sally Pritchett
Agency Producer: Sophie Fletcher, Amy Simmons
Senior Planner: Liora Ingram
Junior Planner: Lucy Wilson
CEO: Tammy Einav
Managing Partner: Tom White
Account Directors: Max Sullivan & Hugo Evans
Project Director: Rasha Noronha
Head of Design: Paul Knowles (KH)
Head of CGI (Retouch) : Charlie Townsend (KH)
Senior Creative Artworker/Studio Manager: Dave Callow (KH)
Creative Artworker: Sam Harris (KH)
Head of Digital Production: James Brown (c&a)
Senior Interactive Designer: Adrian Baker (c&a)
Motion Producer: Rebecca Hunnybun (c&a)
Graphic/Print Producer: Tony Hutton (c&a)
Junior Motion Creator: Honor Northridge (c&a)
Design Director: Adrian Barker (c&a)
Content Director: Dan Boulton (c&a)
Assistant Producer: Jake Parker (c&a)
MINDSHARE UK
Media agency: Mindshare UK
Business Director: Tess Domenet
Account Manager: Nathan Hope
Account Executive: Megan Wieland
KINETICSenior Account Director: Rikul Sudra
W COMMUNICATIONS
PR agency: W Communications
Campaign Director: Grace Jackson
Associate Creative Director: John Wilkinson
Associate Director: Jess O'Donoghue
Account Director: Paige Hartley
Senior Account Executive: Ella Bull
ACADEMY FILMS
Production company: Academy Films
Photographer: Frederick Paxton
EP /Head of Photography: Charlotte Long
Producer: Aidan Brooks
1st Assistant/Digi Op: Simon Wellignton
Production Manager: Daragh McCann
Production Assistant: Dara Phillips
Runner: Luca VisockaiteRunner: Tai Carter
FACTORYAudio Producer: Ethan Day
Audio Creative Director: Dan Beckwith
1920VFX
Colourist: Kai Van Beers
2D: Chrys Aldred
Senior Producer: Charlotte Griffin
SIREN
Composer: Jon Clarke
Producer: Sian Rogers
Production Assistant: Chris Christoforou
If you enjoyed this article, you can subscribe for free to our weekly email alert and receive a regular curation of the best creative campaigns by creatives themselves.