'Creativity Matters' Podcast: AMV BBDO's Nadja Lossgott and Nicholas Hulley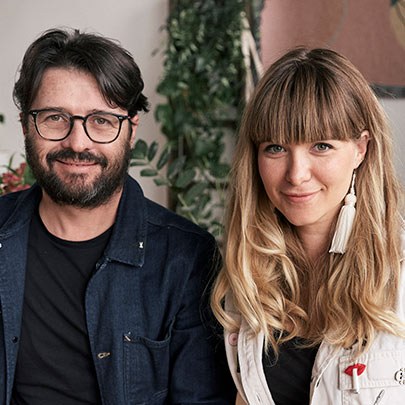 On the Creativity Matters podcast this week, we talk to executive creative directors Nadja Lossgott and Nicholas Hulley who have been at AMV BBDO for almost 10 years.
They have won multiple Cannes Grand Prix's and Titaniums and are the proud owners of a D&AD Black Pencil. They also have work displayed in the permanent collections of the British Museum and the Design Museum.
Nick and Nadja were behind the Guinness Clear campaign, which used humour to promote responsible drinking via a new drink (aka water!), turning on its head the memory structures the brand previously put in place.
Nick and Nadja also share their thoughts and insights behind the acclaimed #wombstories campaign.
The campaign challenged the way this subject has historically been presented to create a story that illustrated the truth, which is without judgment or shame.

We also chat about how they land on an idea, how argument and debate lead to the best ideas, and how they ultimately complement each other.
Show highlights:
Nick and Nadja diplomatically answer which campaign is their favourite; Guinness Clear or #wombstories!

They give us the inside track on #wombstories, where it all stems from and the key themes and concepts they address in the creative work.
Nadja outlines the presentation of sanitary products historically, and how #wombstories aimed to up-end that single narrative showing its complexity.
Nick speaks about the ambition of the project trying to convey the range of emotion that is explored.
They both explain how using animation gave them license to anthropomorphise the womb, allowing the viewer even more access to the truth that you can't show in real life.
Nadja talks about the complexity that is at the heart of the art direction, and how it was important to illustrate the pain and love behind the experience. It's about empathising and conceptualising the experience - the debilitating feeling that is behind it.
Nick and Nadja talk us through Guinness Clear and how, in the end, it is the story of the emperor's new clothes, their aim to re-position memory structures, and using humour to embed it in people's minds.
We talk about how each project begins with a business problem to solve.
Unlearning the way we think about particular subjects is what they have done with their acclaimed blood normal campaign.
We get an insight into their personal stories, where they began, and how long they've worked together. They talk about their craft, their passions, and how they go about their work as a partnership. Nick talks about how growing up in South Africa gave him a resilience and the ability to adapt; how living through such change has helped shaped him and makes them good at what they do.
Finally, we end on what Nick and Nadja hope their legacy to be.