The Creative Moment Podcast: Jon Williams, CEO and founder of The Liberty Guild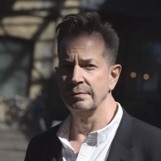 This week on the Creative Moment podcast we talk to Jon Williams, founder and CEO of The Liberty Guild.

Jon founded The Liberty Guild back in 2017, before that he was chief creative officer at Grey Group EMEA.
The Liberty Guild has 300 members in 27 countries and describes itself as "redefining the way creativity is bought and sold."
We talk about the disruption of the advertising agency model and asking what advertising and creative consultancy businesses might look like in the future.
Here's a summary of what we talk about:
Jon talks us through how The Liberty Guild works. He explains that it is built around talent; an association of craftspeople working towards a mutual goal. No buildings - it's simply and easily scalable, delivering a global alternative to the standard agency model.
Jon explains why the Liberty Guild doesn't charge by the hour but instead has a flat fee for an idea.

How long does it take to make an idea? You can't answer that! Clients are now wise to agencies loading hours and people into jobs.
The cost to create the idea is the same, regardless of the client.
Jon talks through the different products the Guild offers.
The Liberty Guild can be whatever shape the client wants them to be - ideas only or ideas and activation.

Jon discusses the longevity of ideas. Who owns the ideas?
Jon feels it is pointless for the client to own every idea they're presented with. The Guild works by holding the IP for ideas until the client buys an idea. The other ideas remain the property of the person who created them.
Jon explains why a model akin to music licensing might be the way to go when it comes to ownership of ideas.

Jon talks over how the creative process has worked as a virtual model. He says that those moments of spontaneity are not real.
Jon has looked at the science of creative excellence. He's studied the successful working practices of companies like Klarna and Spotify and other technical giants and has worked out this is the best, most effective, most successful way of working.
Jon explains how the Guild works and how it is designed to deliver optimal performance. It isn't a big team. It's about multiple small teams. The wonder of a spontaneous creative environment is a myth, says Jon.
Despite The Guild being 100% virtual, Jon is sold on the need for an environment. He takes Salesforce as an example, a company that has walked out of their huge offices and how this represents a fundamental shift in how we work.

Where does the model go from here?
Jon talks about the meaning behind freelance. He gives a history lesson on where the term comes from!