Michael Bublé gets to work in Asda's festive ad for Christmas

Following the release of its Christmas teaser on 1 November, Asda has unveiled its 2023 Christmas ad in which multi-platinum-selling global superstar Michael Bublé and his trademark charisma steal the show.

Premiering on 4 November, at 9.15pm on ITV in The Voice ad break, the new 90-second Christmas TV ad sees Bublé in his element as Asda's inaugural chief quality officer, tasked with ensuring the retailer delivers the very best quality for the nation this Christmas. It marks the first time the legendary Canadian, famed for his Christmas hits, has appeared in a Christmas ad.
Created by Havas London and shot by Oscar-winning filmmaker Taika Waititi, the ad opens with Bublé sitting, full of cheer, feet up on his new desk, and his gold-plated chief quality officer desk sign in full sight for all to see.

"Products to approve – so bring Mr. Bublé your best", orders an Asda colleague, once Bublé had finished cheekily requesting a "clean up on aisle five" – something he'd 'always wanted' to do. As he walks into a room full of Asda colleagues eagerly awaiting his arrival, he admonishes the fishmonger who has tried, again, to push mackerel for Christmas dinner this year.

He then enters the festive warehouse seen in the teaser to get to work approving Asda's finest Christmas offerings. From measuring panettones and selecting the final cheese to complete Asda's Extra Special Christmas Cheeseboard, to sampling some succulent truffle and parmesan pigs in blankets (which he playfully exclaims might beat him to Christmas number one), as an indisputable connoisseur of Christmas Bublé draws on his expertise to ensure the quality of every product on the supermarket's shelves.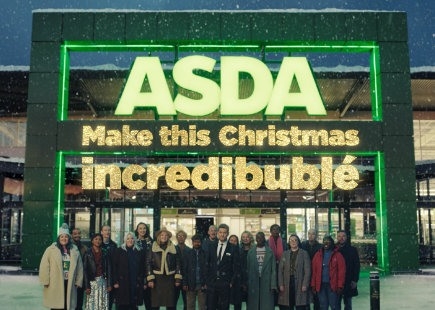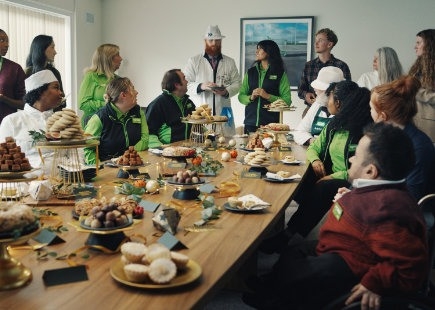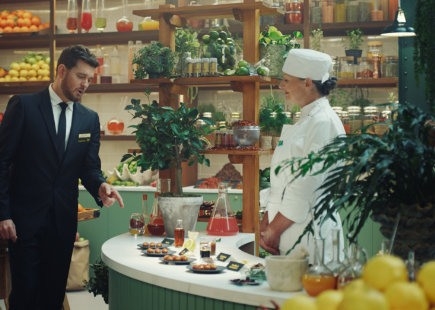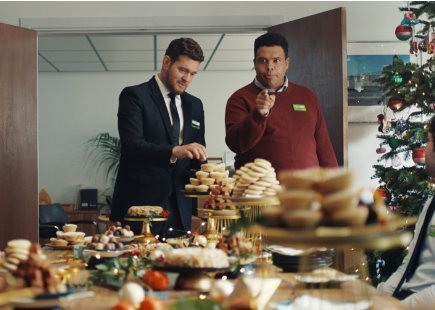 The spot even includes a playful tip of the hat to Asda's 2022 Christmas campaign featuring Buddy the Elf; as Bublé taste tests various pigs in blankets flavours, he dismisses the maple-covered sample as "so last year" – a nod to Buddy's proclivity for sweet treats, and the tray of samples he scoffed in 2022.

"Off for the night are you?", asks the original Asda colleague, as the ad draws to a close – to which Bublé declares he's just getting started, as he joins a store-front choir to sing his crescendo, 'Walking in a Winter Wonderland'.
As well as the TV ad, which will appear on screens up and down the country in the build-up to the big day, the campaign spans print (including high-profile cover wraps unveiling Asda's new chief quality officer), PR, out-of-home, video on demand, digital and social, CRM and in-store executions, as well as activity across Asda Radio and Asda Magazine.
Michael Bublé commented: "I love my relationship with the UK, and I'm the biggest fan of Christmas, so it was an honour to be asked to star in Asda's Christmas advert this year. Adopting the role of Chief Quality Officer, I took my responsibility very seriously, ensuring all products met the highest possible standards – naturally ensuring I had the joy of personally sampling them all - from Black Tiger Tempura Prawns, Truffle and Parmesan Pigs in Blankets to chocolate and Orange Panettone. I believe Christmas is a time like no other, there's a special feeling in the air, a little more magic to be found, and even more excuses to put on a show with great-tasting food."

Vicki Maguire, chief creative officer at Havas London, says: "Christmas just isn't Christmas without Michael Bublé. He's an undisputed icon who gets everyone singing, dancing, and feeling merry – and after another tough year, customers deserve it. But it's not just Christmas Michael Bublé is synonymous with – he understands great quality. So, who better to ensure Christmas is the best it can be by quality controlling every aspect of it. If it isn't good enough for Bublé, it isn't good enough for Asda customers – and we hope this campaign puts a big smile on their millions of faces."

It was created by creative partner Nathalie Gordon, executive creative director Dan Cole, and chief creative officer Vicki Maguire at Havas London, and shot by Oscar-winning filmmaker Taika Waititi through Hungry Man. Media planning and buying was handled by Spark Foundry, with social activity from Havas' earned media specialist One Green Bean, and PR from integrated creative communications agency Cow. The partnership with Michael Bublé was brokered by Talent Republic, the specialist consultancy that partners brands with A-list talent across the globe.
Credits
Project name: Make Your Christmas IncrediBublé
Brand: Asda
Chief Customer Officer: David Hills
Senior Director, Marketing & Communications: Stephi Brett-Lee
Marketing Campaign Manager: Leanne Shields
TV & Broadcast Production Manager: Claire Ibbotson
Creative agency: Havas London
CEO: James Fox
Chief Creative Officer: Vicki Maguire
Executive Creative Director: Dan Cole
Creative Partner (Brand): Nathalie Gordon
Creative Partner (Product): Nick Allsop
Junior Creative (Product): Gwen Carre
Junior Creative (Product): John McGloin
Senior Designer: Sam Kallen
Senior Designer: Miles Niblett
Creative Production Director: Dean Trendler
Senior Creative Producer: Dan Karling
Executive Head of Strategy: Britt Iversen
Strategy Partner: Lee Barber
Strategy Director: Jack Lewis-Barclay
Managing Partner: Dave Owen
Senior Account Director: Sophia Jenkins
Account Director: Kirsty Warren
Account Executive: Caitlin Toohey
Head of Film: Louise Bonnar
Production Lead: Olivia Riddle
Senior Producer (Brand): Sarah Cowen
Producer (Product): Liberty Willison
Assistant Producer: Kezia Claydon
Assistant Producer: Elle Francis-Kent
Head of Business Affairs: Simon Sole
Business Affairs Lead: Amanda Levett
Senior Business Affairs Manager: Marta Kisluk
Social: One Green Bean
Head of Social & Content: Nick Dodd
Creative Director: Nick Hearne
Strategy Director: Sean Weber
Senior Account Director: Olivia King
Junior Creative: Kirsty McKinlay
Media agency: Spark Foundry
Managing Partner: Kat Broomhead
Business Director: Louise Davies
Account Director: Clare Miles
Account Manager: Mark Barber
Senior Account Executive: Moyo Fakorede
Hero casting: Talent Republic
CEO/Founder: Anne BatzManaging Partner: Charlie Powell
Managing Director: Emily Woods
Senior Account Executive: Ella Barker
Production company: Hungry Man
Director: Taika Waititi
Producer: Hannah Stone
DoP: Mike Berlucchi
Director (Product): Ruth Pickett
Producer (Product): Camilla Cullen
DoP (Product): Dave Miller
Editing: Cabin Editing Company
Editor: Chan Hatcher
Editor: Talia Pasqua
Senior Producer: Joanna Dawson
Executive Producer: Kayt Hall
Editor (Product): Nina Sacharow
Post-production: RASCAL
VFX Supervisor: Kalle Lundberg
Creative Director: Kalle Lundberg
Colourist: James Bamford
Executive Producer: Colin Oaten
Producer: Angie Broomfield
Head of Production: James Beck
Sound: Creative Outpost
Head of Sound: Dave Robinson
Sound Designer: Dave Robinson, Tom Lane
Senior Audio Post Producer: Caroline McNally-Smith
Executive Producer: Caroline McNulty
Music: Music Lab
Music Supervisor: Dave Goulding
Casting: Cast Me
Casting Director: Margareta Abena
Food styling: Katie Giovanni
If you enjoyed this article, you can subscribe for free to our weekly email alert and receive a regular curation of the best creative campaigns by creatives themselves.