Qatar World Cup 2022: The good, the bad and the Brewdog

The World Cup is now underway, but you'd have done well to know it.
Usually, I'd have a wallchart hung proudly, a new England shirt ironed and a football-sized bundle of nervous excitement building steadily in my stomach.

But with this winter World Cup somewhat unceremoniously stuffed in the middle of the season like the turkey in a Pret Christmas sandwich, I'm just not feeling the giddy schoolboy fervour felt for tournaments gone by.

And as we kick off, the elephant in the room is not getting any cosier. The choice of host nation, made 12 years ago, is now under more scrutiny than ever. Corruption, labour camps, the deaths of thousands of migrant workers and the illegality of homosexuality shamed this World Cup before a ball was even kicked. Even Seb Blatter, the disgraced former FIFA president, resurfaced to say Qatar should never have been awarded it.
So, when it comes to advertising the broadcast and sponsorship of the World Cup, how have brands approached this tournament?
The BBC and ITV have both played it safe
In their respective adverts, there's no reference to the host nation.
BBC have opted for a light-hearted dramatisation of how distracted football fans have become during the quadrennial tournament.

ITV has taken us on a trip down memory lane
The focus is on previous tournaments to remind us of how exciting those tournaments were, in the hope we'll be excited for this one.
Both are executed beautifully, with great craft and performance, but both fall a little flat. I was hoping for something that would get that ball of nervous excitement rolling. But instead, it's just a quiet reminder that their respective channels will be showing the games.
Coca-Cola believes in magic and Pepsi has a thirst for more
Coca-Cola, long standing football partners launched its campaign, "Believing is Magic", which is funny-not-funny, when you think of the sports-washing going on at the moment.
In it we see a young girl getting swept up in an imaginary carnival of football after taking a sip from the curved bottle. It's a little expected, but nicely executed. There's a joke in there somewhere about her literally drinking the kool aid.

Pepsi said, 'let's just focus on the football'
And they've done it well.
It's a mega game of nutmegs featuring some of the world's best players, Paul Pogba and the legendary Ronaldinho. It's great to watch, has Fatboy Slim as the soundtrack, and actually makes you excited for the World Cup. There's even a football trick featuring a thobe, which the creatives must have been happy with when they came up with that one.
Budweiser plays Lionel Messi, Neymar Jr and Raheem Sterling
Self-professed King of beers, Budweiser, has set its commercial inside a giant tunnel, whilst posing the slightly baffling statement, "No Matter Your Tunnel, The World Is Yours To Take".
It's a bland setting with an obtuse endline and while I get what they're trying to do, it comes across as a bit of advertising nonsense.

And then there's the self-professed anti-sponsors, BrewDog
It launched a campaign to donate profits from the sale of its Lost beer during the tournament, all in aid of fighting human rights abuses.
The posters are bold, some of the headlines really don't pull any punches and I have to applaud them for talking about the elephant in the room. I honestly didn't think any brand would have the kahunas to do so, other than maybe Paddy Power.
The tone of some of the long copy felt quite insensitive though – I don't think football puns are necessary when talking about the death of thousands of migrant workers. And as for some of the backlash online to the campaign, it goes to show that context is everything for a brand.
BrewDog must have known its dirt would be dug up as soon as it launched something like this. Otherwise they've got zero self-awareness and are cynically trying to profit from a thinly veiled act of humanitarianism.
But I'm hoping they're just punk AF.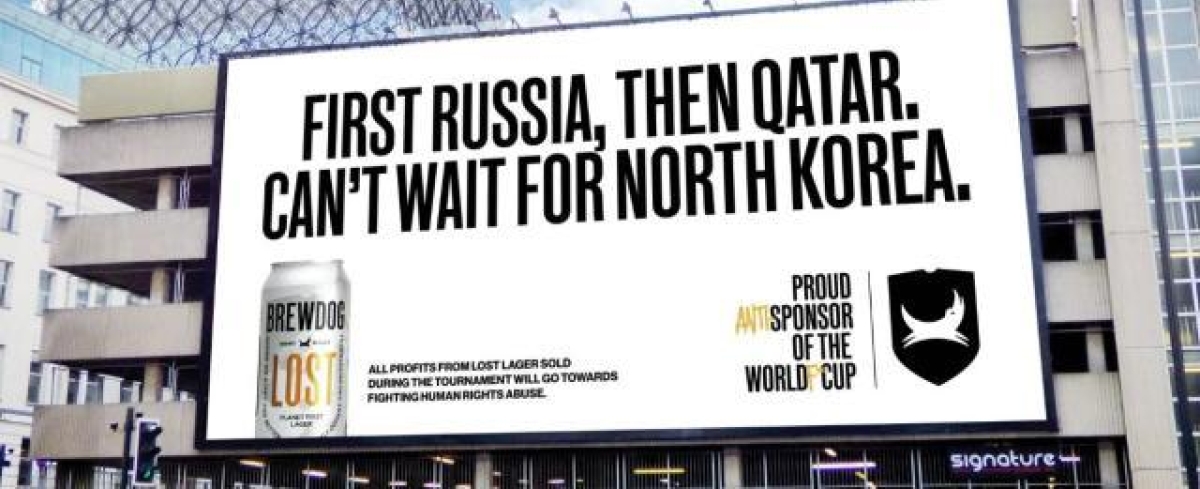 If you enjoyed this article, you can subscribe for free to our weekly email alert and receive a regular curation of the best creative campaigns by creatives themselves.