The Ben Kinsella Trust creates emotive AI-based campaign to stop knife crime on Mother's Day

The Ben Kinsella Trust is launching an innovative new machine learning campaign on Mother's Day, to raise awareness of the devastating impact of knife crime. The push was developed by M&C Saatchi London and Clear Channel UK.

Last year, 315 people were admitted to hospital with knife-related injuries around Mother's Day.
Sadly, too many didn't make it home. This campaign aims to raise awareness of the dangers of knife crime, highlighting the thoughts that go through a mother's mind whenever she hears the sound of an ambulance siren.
This innovative poster campaign is based on anxious messages and text exchanges between real mothers and their sons imploring them to stay safe and not to carry a knife.
In a world first, M&C Saatchi London worked with Clear Channel to develop a machine learning system which was trained to understand what an ambulance siren sounds like.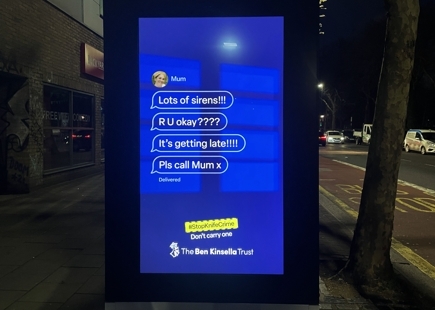 The thoughts and fears of mothers.
Every time an ambulance drives past, or is in close proximity, its siren triggers the technology installed to show powerful messages from mothers to their sons, making the connection between ambulances and the genuine worry mothers have when they hear one stronger and more powerful than ever before.
In addition to this AI-driven technology, the campaign also includes nearly 1,000 live digital billboards and Adshels across the UK. Some showcase the thoughts and fears of mothers, while others ask sons not to carry a knife this Mother's Day. This is supported by organic social media activity.
This campaign is a follow up to M&C Saatchi and the Ben Kinsella Trust's award-winning 'Shout out to my son' radio campaign which ran in 2019. The radio adverts featured mothers making emotional pleas to their sons to stop carrying a knife.
Brooke Kinsella said: "It's been 15 years since we lost Ben and the pain of his loss has never gone away. Nobody should ever have to receive a phone call telling them that their loved one has been involved in a knife-related incident. Our campaign highlights the unique bond that exists between young men and their mum. Using text messages from mothers making emotional pleas to their sons, this innovative campaign will reach young men and make them think about the impact their decisions will have on those they love, so they stay safe and don't carry a knife."
Guy Bradbury, creative partner, M&C Saatchi London, added: "Much of the dialogue around knife crime is focussed on those who are directly involved, or on the government's response. In this campaign we wanted to shine a light on its devastating impact on those who are left behind, handing over poster sites to the one person our audience might listen to: their mums."

If you enjoyed this article, you can subscribe for free to our weekly email alert and receive a regular curation of the best creative campaigns by creatives themselves.