ICYMI: How a white rhino threatened with extinction looked to Tinder for a date (and donations)

The Background
Journeying back through campaigns of yesteryear, this week's ICYMI dates back to 2017 and a unique coming together of two unlikely brands to shed light on the pressing issues around conservation.

It's one that won armfuls of awards back in the day, so here it is in all its glory as we take a look at how Ol Pejeta Conservancy launched 'The World's Most Eligible Batchelor'.

The Big Idea
The plight of the rhino has been well documented, with poaching fuelled by demand for rhino horn for use in traditional medicines and ornaments meaning that dwindling numbers are pushing the incredibly rare northern white rhino to the brink of extinction.

So much so, that in 2017, a male rhino by the name of 'Sudan' was the only living male left anywhere in the world – one of three with the only two other females being his daughter and granddaughter. The final hope for the Kenyan based conservation charity Ol Pejeta Conservancy was to raise enough money to fund badly needed research into Assisted Reproductive Techniques.

Money that was not forthcoming and started at around the $9 million mark.

So, engaging Ogilvy, they set about putting in place a partnership in the most unlikely of places.

That's right, Tinder.

What They Did
Working in collaboration with the dating app, they set about creating a dating profile for Sudan.

Billed as 'the world's most eligible bachelor', his profile describing himself as "6ft tall and 5,000lbs" and being able to "perform well under pressure", going on to list likes as "eating grass" and "chilling in the mud". Apologising for being 'too forward' and that the fate of his species literally depends on him.

It targeted an audience of purpose-driven, conservation-conscious millennials who were unlikely to engage with traditional media or really pay much attention to longwinded and sobering feature pieces of TV advertising. The aim was to target activity squarely where they were hanging out in the world of the app-based dating scene.

Naturally, it was an eye-catching, and somewhat alarming potential partner for casual daters to stumble across.
The idea being it would quickly grab attention and drive people to swipe right – at which point they would be directed toward a donation page to 'help him find a match' and more information on the campaign.

Running on the dating platform across 190 countries, in 40 languages with the focus on building scale and shareability – driving both awareness and incremental donations toward the ultimate monetary goal.

Taking the familiar Tinder aesthetic, tone of voice, and purposefully provocative style, the initial app-based launch was packaged into targeted online, social, print, radio, and filmed content billing Sudan under the headline "Horny male seeks mate."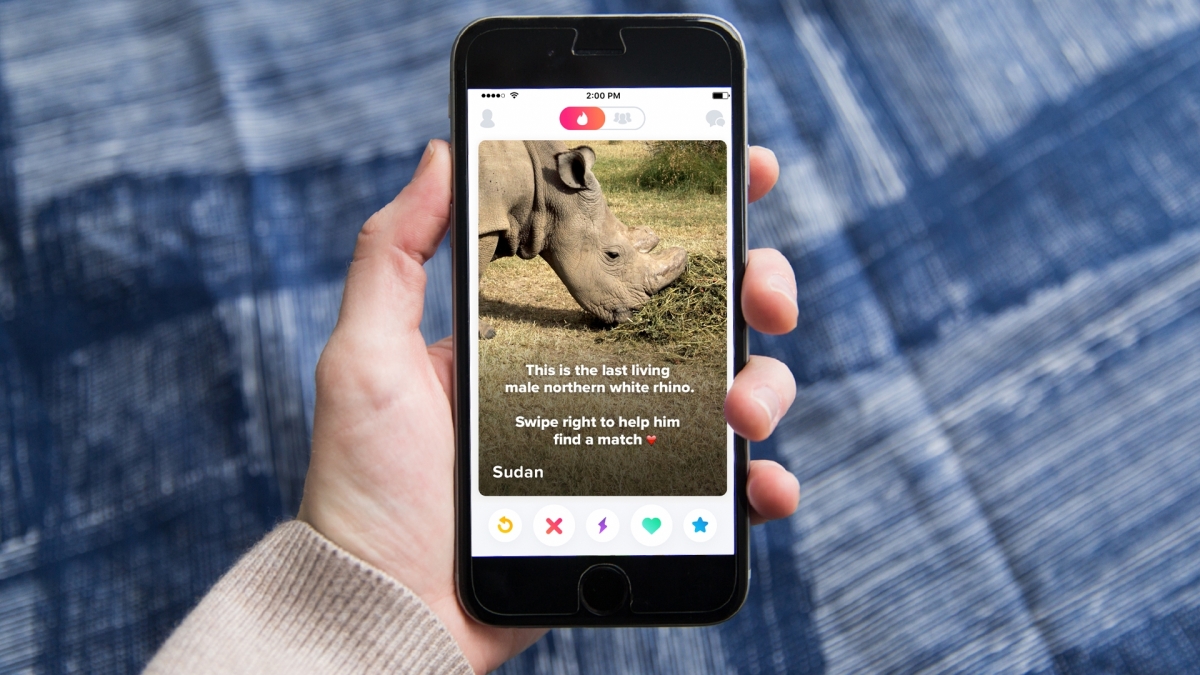 The Results
Capturing the hearts and minds of millions across the globe, this one cleaned up.

Within 48 hours, Sudan went from 'lonely rhino looking for love' to global star thanks to the countless print, online and broadcast pieces announcing his joining Tinder.

Landing 2.1 billion media impressions in little under a week across the broadest of broad spectrum of media outlets, ranging from hard news on the BBC, Al Jazeera, CNN, and Reuters – all the way through to clean sweeps of the tabloid and glossy consumer onlines in each country.

Ranging from Vanity Fair through to the New York Post, NPR, The Evening Standard and USA today – topped off by a 3-minute segment on the US's The Tonight Show with Jimmy Fallon.

Supported by an outpouring on Celebs like Hollywood star Lupita Nyong'o, entrepreneur Richard Branson, footballer Aaron Ramsey combined with more than 2 million right swipes in the first seven days and a 32% increase in donations.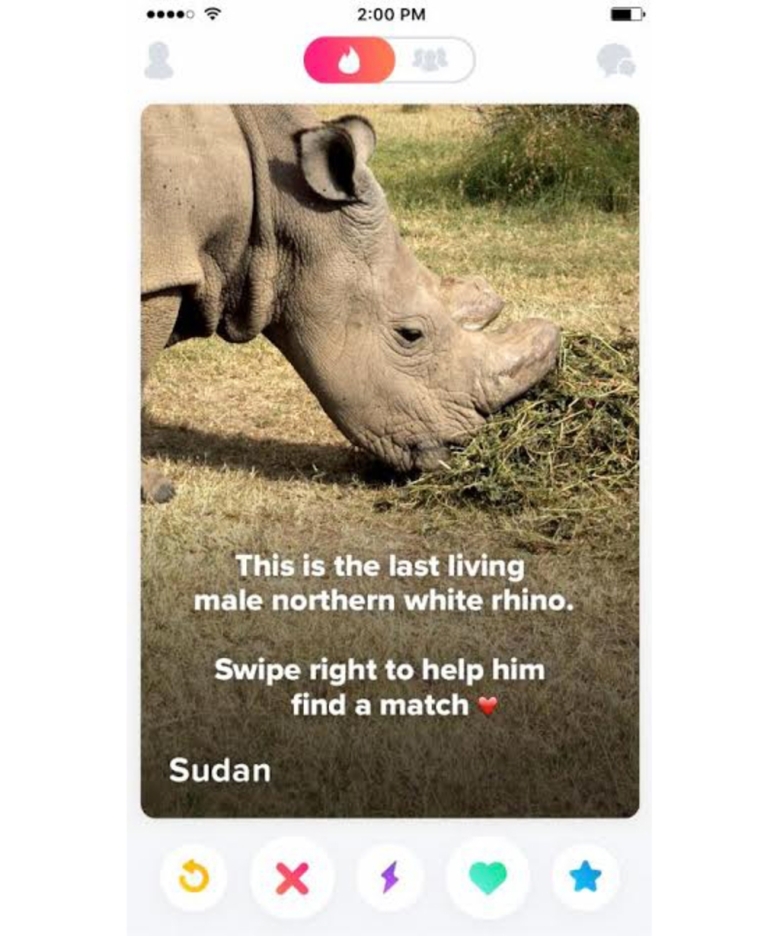 The Review
Such a simple and lovely idea that takes quite a basic concept and executes it bloody well.

Judging it on building awareness of Sudan and the plight of the northern white rhino among a mass audience, this one really delivered through the seeming incongruity of a partnership that seems old hat now – but at the time hadn't even really been considered.

However, looking at donations – which let's be honest, was the ultimate measure of success – this one fell way short. All in all, this short term and Ol Pejeta-specific aim only raised $80,000, well short of the original $9 million mark. Not fantastic when you think about the reach this one got.

In Hindsight
As a piece of creative in its purest form, the idea is a good one, the awareness the campaign drove, the earned and paid media results, and the multitude of awards it bagged are hard to argue with.
However, more than a little underwhelming when you look at the bottom line.

Sub note: Sadly, Sudan passed away in 2018 leaving his daughter and granddaughter as the only white rhinos on earth.
If you enjoyed this article, you can subscribe for free to our weekly email alert and receive a regular curation of the best creative campaigns by creatives themselves.