World Refugee Day: UNHCR and YouTube connect refugees with influential content creators to tell their stories

YouTube and UNHCR, the UN Refugee Agency, have released a new film series that showcases the creativity and courage of refugees from three different regions of the world.
The short film series entitled "We Were Here," which premieres on YouTube on 20 June, World Refugee Day, seeks to challenge stereotypes and perceptions about refugees by connecting refugees with some of YouTube's most influential content creators around shared interests such as music, growing food, and building toys.

An original format created and produced by Uncommon Creative Studio, in association with Lief, who bring together a team of award-winning filmmakers who give each episode a unique tone and identity. The team behind the project include renowned director Alma Har'el overseeing the series as executive producer (Honey Boy, Bombay Beach), with Oscar nominated director Laura Checkoway (The Cave of Adullam, Edith + Eddie) on board as both series director and the author of one episode.
The other two episodes are directed by the internationally acclaimed Jordanian director Mahmoud Al Massad (Blessed Benefit), and British-Ghanaian rising star Curtis Essel, while the film scores have been overseen by highly awarded music supervisor Bridget Samuels (Under the Skin, Midsommar). The important job of finding the refugee contributors was undertaken by documentary casting directors and BAFTA nominees Six Minutes.
The displacement crisis crossed a new mark at the end of 2022, with the total number of people forcibly displaced globally exceeding 108.4 million for the first time.
For many, the enormity and complexity of the issues can feel overwhelming: it is easy to lose sight of the individuals affected by displacement and see only the scale of the situation.
The "We Were Here" series aims to give people an opportunity to identify with individuals by connecting with something we all share — creativity. Refugees have hopes and dreams like anyone else and being able to do what matters most to them has the power to impact the world.
Through these unexpected connections, these untold stories aim to inspire a new and engaged audience to see refugees in an entirely new light — sparking powerful solidarity with displaced people everywhere.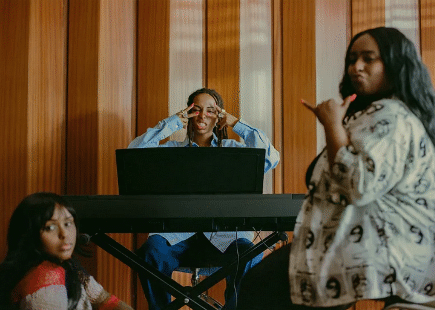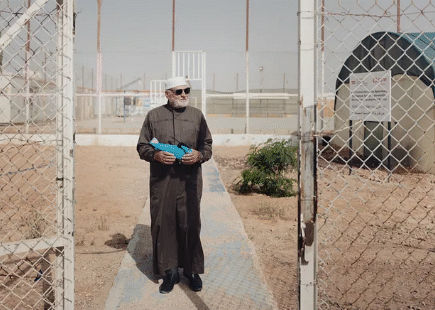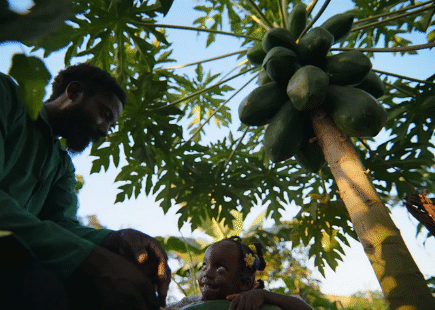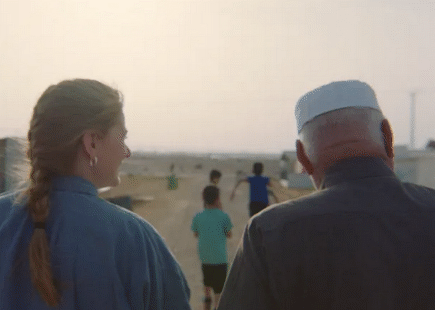 The Musicians
In a village just outside Stuttgart, chart-topping DJ and producer Jax Jones meets displaced Ukrainian Ethiopian sisters Betty, Siona and Miriam, who form hip-hop trio Fo Sho together.
Restarting their lives in Germany, they are overcoming creative and personal struggles whilst discovering the healing power of sisterhood and music. Working on a track in the studio together, we learn both artists share a common language searching for belonging.

The Toymaker
At Azraq refugee camp, in the middle of the Jordanian desert, YouTube inventor Simone Giertz meets Mohammad Waheed, a grandfather, retired construction worker and Syrian refugee, known as the camp's toymaker. Together they set out to build a toy helicopter that they hope will fly, along the way overcoming creative and cultural differences to form a deep connection.
An uplifting, heart-warming and emotionally-charged film about play and creativity, which also gives a rare insight into life in a remote refugee camp.

The Permaculturist
Spanning Wales, Uganda and Germany, this episode sees vegan chef, permaculture enthusiast, and YouTuber Gaz Oakley meet permaculture expert Bemeriki Dusabe, a Congolese refugee who has been living in a settlement in Uganda for the last 16 years, where he has set up a foundation teaching others how to grow their food — a testament to the incredible strength of the human spirit in the face of adversity.
A film about self-sufficiency, growth, community and connection.

Series Credits
Creative Studio: Uncommon Creative Studio
Production Company: Uncommon in association with Lief Producer: Shananne Lane, Margo Mars and Rosie Woods Executive Producer: Alma Har'el, Nils Leonard and Charlie Gatsky Sinclair
Series Director: Laura Checkoway
Production Manager: Luke Tilbury and Laura Jenkins
Music Supervisor: Bridget Samuels
Colourist: Yoomin Lee
Colour: Company3
Colour Producer: Kerri Aungle
Post-Production Company: Jam VFX
Online Post Producer: Angus Berryman
Title Design: Uncommon Creative Studio
Production Assistant: Gaaron Clarke
Director Assistant: Tally Francis
Director Assistant: Sasha Nicolas
Junior Researcher: Ethan Elliott
THE PERMACULTURIST
Contributors: Bemeriki Bisimwa Dusabe, Gaz Oakley
Director: Curtis Essel
Casting Director: Six Minutes
Director of Photography: Henry Gill
Editor: Lucy Berry
Sound Designer: Michael Haines

UGANDA UNIT
Service Producer: Guy Wilson and Irene Magu
Service Production Company: Ginger Ink Films
1st AC: Lily Gacambi
Digital Imaging Technician: Murtaza Zain
Sound Recordist: Daniel Chu
Boom Operator: Jomo Wilson
Transport Captain: Abdulrahman Shumari
Fixer: Michael Wawuyo
Clearing Agent: Antony Eropu
WALES UNIT
1st AC: Ceri Evans
2nd AC: Aaron Eagling-Vose
Digital Imaging Technician: Lewis Williams
Sound Recordist: Geraint Lewis
Unit Driver: Carl Rock
BERLIN UNIT
Line Producer: Sybella Stevens
Production Manager: Justus Toussaint
1st AC: David Gaiser
2nd AC: Anne Chladek
Gaffer: Sam Gardisi
Sound Recordist: Birte Gerstenkorn
Driver: Ben Lucchesi
Offline Edit: Final Cut
Offline Post Producer: Nikki Porter
Assistant Editor: Ruby Browne
Audio Post-Production: Factory
Audio Producer: Ciara Wakley
Photographer: Christina Nwobugo
Special Thanks To: Rwamwanja Settlement Residents, Rwamwanja Rural Foundation, Amza Kalemire, Rwamwanja Gospel Choir. Hope for People with Disability. Blumental Berlin. Lush Spring Prize, Doug & Juliet Oakley
Extra Special Thanks To: Bemeriki's Family
'THE MUSICIANS'
Contributors: Fo Sho, Jax Jones
Director: Laura Checkoway
Casting Director: Six Minutes
Music Talent Casting: Simon Micheal Carroll, Susie Lucas at Lucas + Carroll
Additional Casting Research: Rose Waite
Director of Photography: Jaime Ackroyd
Costume Designer: Lauren Groves
Editor: Helena Teixeira
Sound Designer: Rich Martin
STUTTGART UNIT
Line Producer: Sonja May and Simon Hebler
1st Assistant Director: Matt Schoemer
1st AC: Julian Roth
2nd AC / DIT: Trung Bui
Sound Recordist: Marcus Vetter
Gaffer: Gert Witilski
Electrician: Tobi Weber
Wardrobe Assistant: Daniela Hochstatter
PA / Driver: Cornelius Frey
PA / Driver: Lorenz Huml
VIP Driver: Matthias Rittgen
Offline Edit: Trim Editing
Offline Post Producer: Polly Kemp
Audio Post-Production: Absolute
Audio Producer: Sian Hagan
Photographer: Myah Jeffers
Music: Fo Sho and Jax Jones
Special Thanks To: Maik Schuheida. Besher Girma Endale, Negash Etetu, Negash Etetu Yayehirad, Oleksandr Maksymliuk, Zoryana the cat. Nicholai Planitzer, John Planitzer, Anna Plantizer, Oleksandr Maksymliuk.
'THE TOYMAKER'
Contributors: Mohammad Waheed Hussein Asaf, Simone Giertz
Director Mahmoud: Al Massad
Casting Director: Six Minutes
Director of Photography: Ahmad Jalboush
Editor: Simon El Habre
Sound Designer: Patch Rowland & Nigel Mannington
JORDAN UNIT
Producer: Faris Halaseh
Service Production Company: Where To Film
1st AD / Translator: Leen Hamarneh
1st AC: Hussein Qadan
Camera Operator / AC: Amr Khaled
Location Manager: Ahmad Shehdeh
Art Director: Ayoub Nahhas~
Sound Recordist: Hussam Sabanekh
DIT: Saif Abu Rabear
Sound Assistant: Bashar Khawaja
Production Assistant: Hamzeh Hamidah
Driver: Rashed Zghool
Additional Editing: Lewis Noll
Assistant Editor: Patil Aynedjian
Audio Post-Production: Machine Sound
Audio Executive Producer: Rebecca Boswell
Audio Producer: Amber Clayton
Audio Assistant: Chas Langston
Translation / Subtitles: Wael Joudeh
Photographer: Emily Garthwaite
Special Thanks To: Meshal Elfayez, Roland Schoenbauer, Syrian Refugee Affairs Directorate, Annemarie Jacir
Extra Special Thanks To: Osama Sabbah
If you enjoyed this article, you can subscribe for free to our weekly email alert and receive a regular curation of the best creative campaigns by creatives themselves.