Winnie-the-Pooh: The Deforested Edition shows why we should all give a crap when it comes to our toilet paper

I don't think I've ever come across a book-related campaign I haven't liked.
There was Penguin Random House's book vending machine? LOVE.
TV channel Dave injecting some comedy into new editions of books voted most boring? Genius.
Margaret Atwood taking a flamethrower to a special version of her own masterpiece, The Handmaid's Tale? Inject it into my VEINS.

So when I spotted this effort by eco-friendly toilet paper brand Who Gives a Crap, I was…flush with excitement.
Taking full advantage of the fact an iconic, and very on-brand, children's character came into the public domain in 2022, the company decided to create its own Winnie-the-Pooh story, with an important sustainability message.
In this tale, Winnie's home has become Zero Acre Wood, thanks to deforestation, and his adventures with Christopher Robin, Piglet, Tigger, Eeyore and all his friends are forever changed. To quote the bear with very little brain - 'oh bother'.
It's said that one million trees are cut down to make toilet paper every day, a stat that nearly felled me, never mind the trees. So this is a great way to highlight the problem that Who Gives A Crap is seeking to solve.
And don't panic! No trees were harmed in the making of this campaign - Winnie-the-Pooh: The Deforested Edition is available as an eBook for free, or printed to order (US only - BOO!) in a limited edition run.
This campaign ticks all the boxes—clear message, strong call to action, and a willy nilly silly ole bear. It's also the first thing I've seen since A. A. Milne's works came into the public domain that's made good use of it (no, Winnie the Pooh: Blood & Honey doesn't count) and I love the creative use of the character to convey a serious message AND sell bamboo-based toilet paper.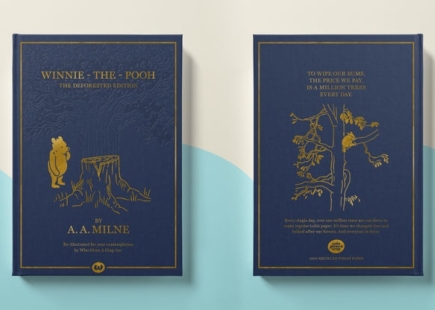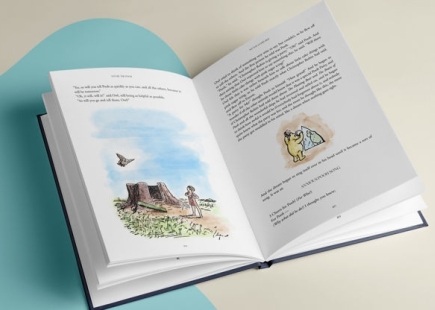 If you enjoyed this article, you can subscribe for free to our weekly email alert and receive a regular curation of the best creative campaigns by creatives themselves.