WongDoody asks film fans to 'Explore the MovieVerse' for Seattle Film Festival 2023

Global creative agency WongDoody has launched its latest campaign for Seattle International Film Festival (SIFF) that they have now partnered with for over 19 years.
'Enter The MovieVerse' pulls inspiration from the thrill of epic journeys of discovery, drawing parallels between the unknown of space exploration and stepping into the vast unknown frontier of film festivals.
The work is described as a 'cinematic invitation' for audiences to take a giant leap into the awe-inspiring experience of the festival.
SIFF champions the power of sharing original stories with diverse perspectives and rich emotional journeys, which is why today it's one of the most highly regarded film festivals in the world attracting nearly 150,000 attendees to celebrate films from more than 80 countries and regions globally.
Monkey Watson, group creative director at WongDoody, has worked on the SIFF campaigns for nearly two decades. Creating work that has taken inspiration from surreal takes on Americana, finding cinematic nirvana and even Minecraft.
On the 2023 campaign he commented; "Film has a long history of telling stories of space exploration. From Georges Méliès 'A Trip to the Moon', to today's blockbuster movies like James Gunn's 'Guardians of the Galaxy' series."
"It was a thrill to take this theme and use it as an analogy for the festival. It only seems right for a city that has the iconic Space Needle in its skyline."
Movies are being screened from May 11-21, with selected films streamed through May 22-28. Promotion for this will take the form of OOH, video content, trailers and bumpers each a decidedly different twist and approach to the 'MovieVerse'.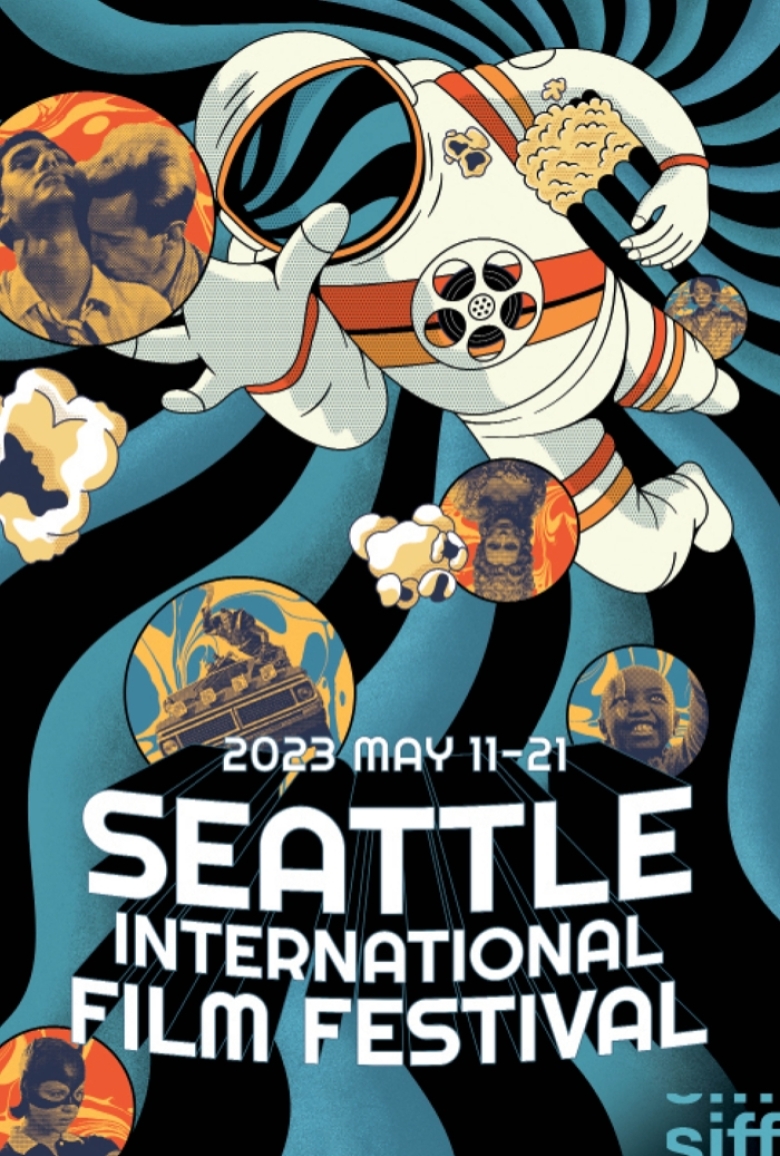 The cinephiles will notice references including Stanley Kubrick's '2001: A Space Odyssey' to a Nic Cage easter egg, as well as a parody short which adopts the line, 'In Space No One Should Hear Your Screen' to get theatre goers to switch their phones to silent.
"The Seattle International Film Festival has always been a space for discovery: there's nothing quite like the revelation that can happen inside a movie theater when the lights go down," said SIFF Artistic Director Beth Barrett.
"With the theme this year, SIFF is celebrating just that—with films, filmmakers and communities from all over the world gathering around the joy of discovering new worlds through cinema."
Credits
CLIENT // SIFF
ARTISTIC DIRECTOR: Beth Barrett
ASSOCIATE DIRECTOR OF DIGITAL MARKETING: Clare Canzoneri Garvin
ASSOCIATE DIRECTOR OF PR & COMMUNICATIONS: Madison Zimmerman
AGENCY // WongDoody
GLOBAL CHIEF CREATIVE AND DESIGN OFFICER: Grace Francis
EXECUTIVE CREATIVE DIRECTOR: Pete Gosselin
VP, GROUP CREATIVE DIRECTOR: Monkey Watson
AVP, FILM PRODUCTION: Matteo Mosterts
CONTENT PRODUCER: Byron Miller
SR ART DIRECTOR: Runak Chavoshi
ART DIRECTOR, MOTION: Lena Lee
DESIGNER: Reese Murakami
COPYWRITER: Coby Jackson
STUDIO ARTIST: Susan Barnes
SR STUDIO ARTIST: Aimee Hossler
MOTION GRAPHICS DESIGNER: Francesco Brunotti
SR RETOUCH ARTIST: Charlie Rakatansky
ACCOUNT SUPERVISOR: Ariel Smith
SR CLIENT PARTNER: Thomas Bobson
TRAILER PRODUCTION COMPANY // Dos Rios Films
PRODUCER: Paul Breslin
DIRECTORS: Mark Mirabile & Christopher James Cunningham
CINEMATOGRAPHER: Ryan Purcell
EDITOR: Christopher James Cunningham
COMPOSER: Nic Danielson
COLORIST: Thai M. Tran
COSTUME DESIGNER: Ron Leamon
TRAILER, BUMPER AUDIO PRODUCTION //HEARby Sound
CREATIVE DIRECTOR & SOUND ENGINEER: John Buroker
EXECUTIVE PRODUCER: Nannette Buroker
If you enjoyed this article, you can subscribe for free to our weekly email alert and receive a regular curation of the best creative campaigns by creatives themselves.