adam&eveDDB and Crisis make homelessness 'Impossible to Ignore' this Christmas

adam&eveDDB and homelessness charity, Crisis, have launched a new campaign that aims to make the problem of homelessness 'Impossible to Ignore' this winter.

A towering, hyper-realistic sculpture of a person experiencing homelessness is displayed at London's Kings Cross station. The colossal 4.3-metre-tall sculpture, created by hyper-realism artist Sophie de Oliveria Barata, working with Creative Giants, stands as a visible testament to the hundreds of thousands of people currently experiencing the most acute kinds of homelessness.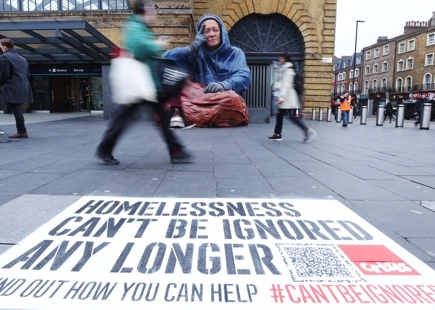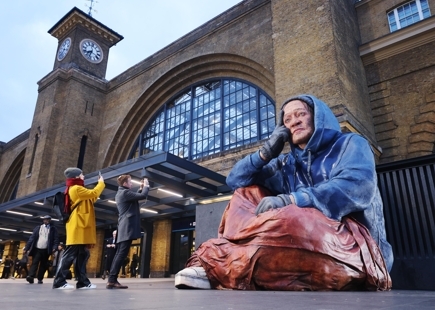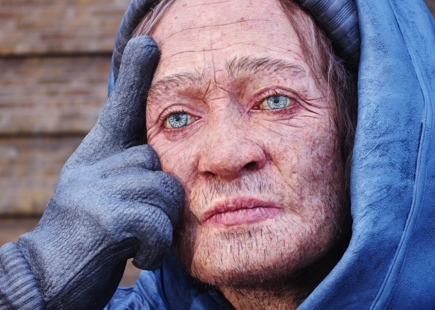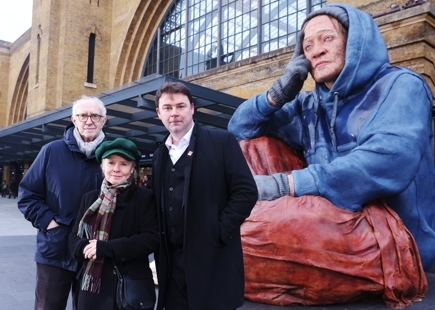 The more homeless people we see, the less we really see them.
This behaviour reinforces an all-too-common reaction as people choose to walk past and ignore the devastating impact of homelessness because it's too uncomfortable to confront.

However, new research reveals that the issue is worsening, as 300,000 households could be forced into homelessness next year, with sleeping on the streets, sofa surfing and living in temporary accommodation becoming more prevalent as the cost-of-living crisis bites. We know that ignoring this problem won't make it go away.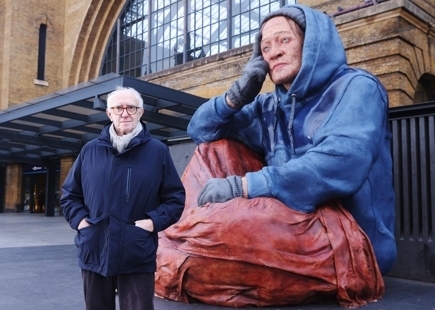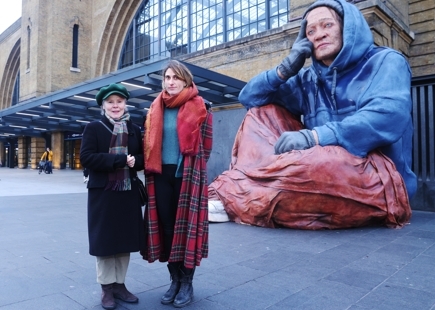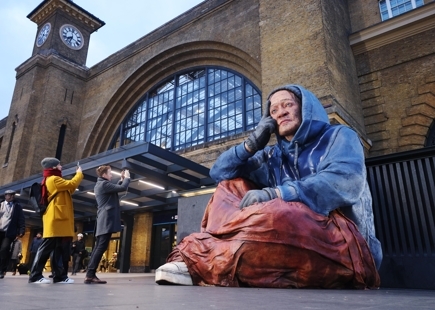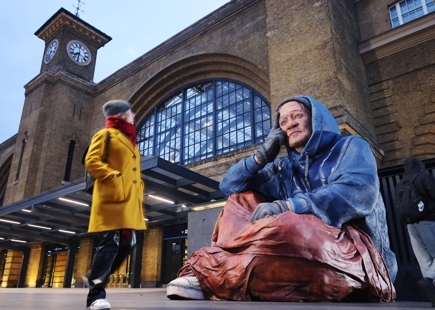 The sculpture, named Alex, has been created with incredibly realistic life-like features through tools such as AI mapping, using the profiles of seventeen people facing homelessness who have been supported by Crisis. This reinforces the humanity of people experiencing one of the most brutal forms of homelessness: rough sleeping.

Sitting at 2.5 tonnes and the height of a double-decker bus, the sculpture took 10 weeks to create and is surrounded by QR codes leading visitors towards the website with opportunities to read people's stories of experiencing homelessness, as well as donate to the charity.
A making-of film has been shot by Dan Boulton, Content Director, adam&eveDDB to capture the process of creating a hyper-real sculpture like Alex, and brings the craft and detail to life.
Alex is supported by a 50" hero film, 'Impossible to Ignore', set to premiere during an exclusive spot on Channel 4, during its flagship evening news programme. Produced in collaboration with new-land, directed by Bjarke Underbjerg with VFX and grade by Untold Studios, and audio by Wave studios, the film carries the same 'Impossible to ignore' message that runs throughout the integrated campaign.
Catherine Ashford, head of marketing and Communications at Crisis, said: "Every day at Crisis we are confronted with the impact homelessness has on people's lives, and every day we see that it doesn't have to be this way. But we know homelessness is an issue people find overwhelming, and while many want to see change, too many of us continue to turn away.

Mike Sutherland, executive creative director at adam&eveDDB, added: "The statistics speak for themselves. Homelessness in the UK is a serious issue that needs urgent attention. We wanted to create something that will stop people in their tracks. So, we made an ultra-realistic, lifelike sculpture of someone who is experiencing homelessness called 'Alex'…that also happens to be the size of a double decker bus. Our hope is that 'Alex' will be impossible to ignore and will raise the much-needed attention around homelessness and what we need to do to try and help solve it."
Christmas is the most important time of year for donations to Crisis, as well as a particularly tough time for those experiencing all forms of homelessness. The campaign timing has been planned to support this.

Alex will be at London's Kings Cross for two days from Monday 5th December before being transferred to the Birmingham Bullring where it will continue to raise awareness in the United Kingdom's second-largest city from 8th – 12th December.

If you enjoyed this article, you can subscribe for free to our weekly email alert and receive a regular curation of the best creative campaigns by creatives themselves.