adidas and Stormzy announce the launch of #Merky FC

adidas and Stormzy announce the launch of their collaborative venture, #Merky FC - a programme committed to enhancing and protecting diverse representation in the football industry.
#Merky FC is a new movement that will affect change across the industry by addressing the lack of diversity off the pitch in football and providing access to a host of multi-year, paid professional placements across the industry. The initiative combines adidas's football leadership with Stormzy's experience in creating equality in education, and the workplace for young people of Black heritage.

Both Stormzy and adidas have brought together 10 leading brands, from Manchester United and Fulham FC, to Sky Sports and LADbible (full list of partners below), to form part of the careers programme that will commence in January 2023, each providing work placements from operations and community to creative and marketing within their businesses, in a bid to change the game.
The launch of #Merky FC comes as research commissioned by adidas with FARE Network reveals just 6.7% of senior roles in football are taken by someone who identifies as Black or mixed Black heritage*.
Even though the sport may appear diverse on the field of play, with 39% of Premier League players identifying as Black or mixed Black heritage*, it is a different story off pitch.
Becoming a footballer is something a significant proportion of Black British young people desire to achieve (64%), yet only 0.012% will make it as a Premier League professional. On average, it's 14-17 years olds who dream of becoming a professional player. Despite being one of the most common career dreams for young people, data reveals a surprisingly low proportion of young Black British men (26%) aspire to have a career in football off the pitch.
When it comes to young Black women - the majority (52%) say they want a role in football, yet 40% don't think they'd make it based on gender. One of the biggest challenges faced by young Black people trying to break into the industry is their ethnic background (33%), as well as awareness and access to information on available roles off the pitch (27%).
Physio, TV presenter and nutritionist are the most well-known roles within the wider football industry for this group. However, just 12-14% of respondents think they would be considered for each of these positions.
Over half (55%) of Black British youth admitted to having faced discrimination when applying for white collar roles in the past. Of the 70% who have tried to get a work placement in an industry they are passionate about, nearly half (49%) have faced difficulties due to their ethnic background.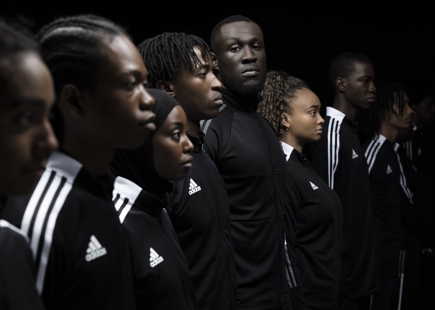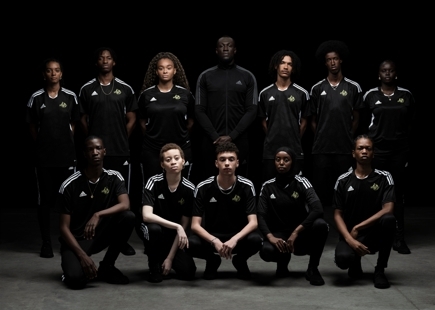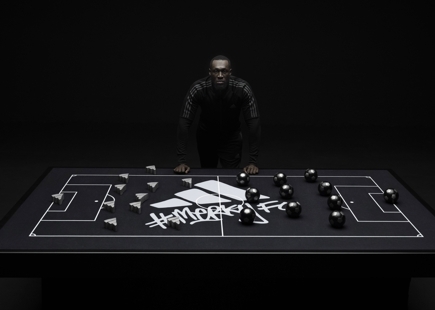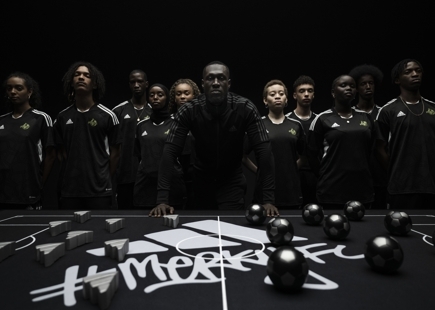 Stormzy said, "Just 6.7% of senior roles in football are taken by someone who identifies as Black or mixed Black heritage. We barely see any Black Team Managers, Coaches, Sports Presenters, Assistants, Ops Managers, Sales Managers, Accountants, Marketing Managers or Physiotherapists - the list goes on, nor are many of us even aware of the vast roles available within the football industry. Through the #Merky FC initiative we hope to inspire real change within this field as part of my wider commitment to support racial equality in the UK.
"With the support of adidas and the additional 10 partners, we will be in a position to aid the people who may have experienced disadvantages during their football career pathway. We strongly encourage other companies to join us in our mission."
adidas said: "We are passionate about providing inclusive opportunities to young talent in the UK. We are proud to be working in partnership with Stormzy to introduce #Merky FC, an initiative that directly tackles some of the biggest barriers facing UK youth in football today, by creating a legacy of career opportunities off the pitch alongside the other partners. Along with the support of our network of adidas partners, we are committed to fighting for equal representation in football, and this launch is only the beginning for #Merky FC. Watch this space."
Sophie Hickman, director at Hope & Glory PR, said: "At the heart of the campaign was the insight that there is a perception, based on the on-pitch diversity of the game, that football's issues lie only in the stands. Something we wanted to leverage for our creative.
We knew we needed to highlight the inequity off the pitch in the industry to make our case and challenge existing perceptions, so we needed to raise the problem with the media and the football community. Via the research we conducted with FARE, we offered further weight to spark a discussion and offer a positive-minded solution. And from there, the strategy was simple as we knew the data would speak for itself, using a combination of industry-wide and consumer stats. Stats that showed just 6.7% of senior roles in football are taken by someone who identifies as Black or mixed Black heritage despite this 64% of Black British youth aspiring to a career as a professional footballer.
We needed to get that message out there, and we had the perfect spokesperson for our target audience in Stormzy – using him to create a suite of powerful media assets to set up the industry problem.

Eleven partners include:
adidas
Manchester Utd
Fulham FC
#Merky FC
Sky
LADbible
6. 6. Versus
TEAM
WMG
KSS
Footballco (Goal.com)

If you enjoyed this article, you can subscribe for free to our weekly email alert and receive a regular curation of the best creative campaigns by creatives themselves.