Asics trains AI to understand the real benefits of exercise

The real power of exercise is to transform the mind.
ASICS has revealed how Artificial Intelligence ["AI"] technology is distorting the real benefit of exercise through images that portray "healthy exercise" as extreme physical transformation. This focus on exercise purely for aesthetic gain is putting millions off exercise and leaving people feeling insecure. In response, ASICS has launched an AI Training programme to help teach AI that the real power of exercise is to transform the mind.
AI is increasingly shaping culture – from medical advice to advertising and even creating models in magazines and media campaigns. The AI imaging tools work by combining large amounts of data found on the internet with intelligent algorithms. ASICS' finding, therefore, highlights a problem, not only significant within yesterday's culture but one which threatens to worsen tomorrow.
Delving deeper, a recent survey, conducted on behalf of ASICS, uncovered that seven in 10 (72%) say AI-generated images could cause people to develop worries about their own bodies. When asked how AI exercise images made them feel, the most common responses were 'unfit', 'inferior', 'unattractive' and 'insecure.'
And, while seven in 10 (70%) felt that good mental health is the most important benefit of regular exercise, six in 10 (60%) felt that AI images focus solely on aesthetics. Worryingly, almost one in five (18%) said the AI images made them feel less motivated to exercise. More than seven in 10 (72%) said the AI images showed an unrealistic body type, with many agreeing it would not be possible to achieve through daily exercise alone.
Alex Wood, executive creative director, Golin said: "AI's warped understanding reflects what the online world teaches it – and us – about healthy exercise and bodies. Exercise elitism is everywhere, and it's damaging. In response, we loved the idea of an exercise training program for something without a physical body - fuelled by more inclusive, happier and realistic exercise images. The results prove that the training program works - we now hope AI companies start using it to shape the future."
ASICS has partnered with AI Expert, Omar Karim, to create the AI Training programme – a bank of images of real people enjoying exercise for the feeling, not aesthetics, combined with bespoke lines of code and AI prompts. Helping any AI system learn what exercise really looks like.

Omar Karim said: "AI is an extremely impressive tool, and its possibilities are endless. While it's exciting that AI can be used in so many interesting ways, it's extremely important that it's taught to accurately represent the world and people around us. One of the interesting parts about the way AI works is that it learns from the years of content shared online. Therefore, it's on us to ensure that AI is taught to unlearn what could be potentially harmful. What we are looking at is today's equivalent of airbrushing, only it's being done automatically and without human judgement."
ASICS is publicly calling on leading AI platforms to use the AI Training programme to teach their AI tools what normal exercise looks and feels like – ending unrealistic and damaging depictions.

The public has a key role to play too. ASICS is inviting the nation to share an image of themselves exercising on social with the hashtag #TrainingAI and tagging @ASICS. After confirmation, each image will be added to the bank and used to train AI.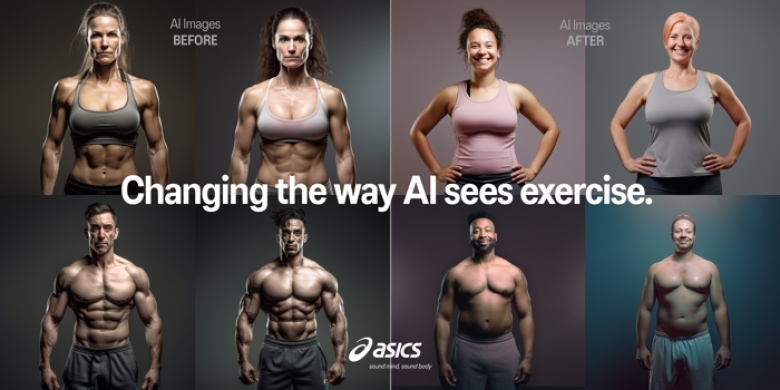 If you enjoyed this article, you can subscribe for free to our weekly email alert and receive a regular curation of the best creative campaigns by creatives themselves.