British Airways Holidays reminds travellers to take their holidays seriously

British Airways Holiday's new campaign - 'Take Your Holiday Seriously' - launches a series of outdoor executions created by Uncommon.
The idea centres around the common 'Out of Office' email - something many of us are familiar with setting up ahead of taking our annual leave at work. But instead of the usual polite sign-off messages that can typically note 'if urgent please contact me via mobile', these OOO emails are more about protecting our headspace from the office when we're on our holidays.

The emails include playful copy such as "No" and "0% chance of work". Behind the humour is an important message; that holidays are more than a frivolous luxury and we should all prioritise time away for our wellbeing.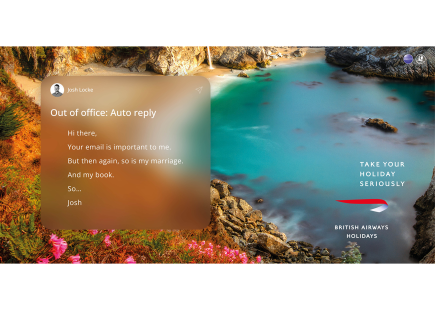 The OOH follows a series of films launched in late December, urging Brits to be serious when it comes to taking time off.
Due to the fact that despite not taking a holiday is proven to literally kill us sooner, Brits fail to take them seriously. In fact, a new survey revealed that 50% of UK working adults do not take their full annual leave allocation.

The survey, commissioned by British Airways Holidays with YouGov Plc., also found that 48% of working Brits have checked their work emails whilst away, when science suggests that not taking time off can shorten your life expectancy.
With a cost-of-living crisis this winter and a recession on the horizon, many will be finding it harder to justify a getaway in 2023. However, a 40-year study by the European Society of Cardiology revealed that taking a holiday could help people live longer. British Airways Holidays' survey also revealed that nearly 79% of those asked agreed that taking a break is good for their mental health.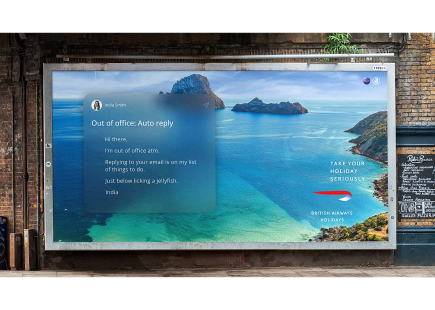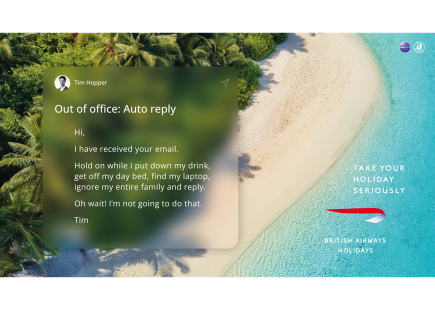 Credits
Project name: Take Your Holiday Seriously
Client: British Airways Holidays
Creative Studio: Uncommon

If you enjoyed this article, you can subscribe for free to our weekly email alert and receive a regular curation of the best creative campaigns by creatives themselves.