Creative Corner: Barbie, Dobby and SpongeBob LushPants

Welcome one and all to Creative Corner!
It's always a genuine pleasure to round off a busy working week by celebrating the great work coming out of our industry.
I spotted a stat recently that said there are something like 13,000 more PRs than there are journalists right now, which will surprise no one that's been pitching recently! It means it's harder than ever to get coverage for even the very best work we do, but we keep pushing the boundaries of what's possible in incredible ways, and when one thing doesn't work, we dust ourselves off and jump right back on the horse. Such is the life of a creative comms professional!
Over the years, I've learned that it's easy to make a snide comment or cynical remark online about campaigns you didn't like, or think it's cool to pile on the work of others - trust me, I know. Which is why this little corner of the internet has always and will continue to be, a place for positivity, joy, and celebration of the work we do. No one wakes up in this industry and thinks 'I think I'll deliberately do awful/terrible work today', and the fact is that creative campaigns by their very nature are destined to be divisive. Hell, if you could see the 'cutting room floor' after all our ideas sessions at Radioactive you'd insist we were on something, part of a cult, completely unhinged, or all three!
You can't please everyone; you're not a sex toy. I hope we can all remember that the next time we see a campaign that doesn't resonate with us or fit our personal view or experience of the world.
Phew…shit got real there! I blame the weather.
Now let's have some fun.
I'm a Barbie girl
It's officially Barbie's world and we are all living in it like we're 'just Ken'. I wasn't a Barbie kid growing up - not by choice, an aunty of mine worked for Hasbro so we were only ever given Sindy dolls, it still stings - so when the Barbie movie was announced my brain kind of went 'meh, it's not meant for me' and moved on. I am a 36-year-old mother of one after all.

Barbie, it seems, had other ideas, because the marketing rollout ahead of the film's release on the 21st July has been nothing short of spectacular.
Social media image generator and a filter? CHECK

AirBnB collab with real-life Malibu Dream House? CHECK

Pink billboards with just '21st July' in instantly-recognisable Barbie font on them? CHECK

PR story about the movie causing a global shortage of pink paint? CHECK

Coveted Architectural Digest slot with Barbie herself Margot Robbie giving a tour of the Dream House? CHECK

An entire Barbie-themed hotel floor for press junkets? CHECK

Barbie's car playable in Forza Horizon and in mini convertible form with Hot Wheels? CHECK and CHECK

Brand collabs including the actual rollerblades from the movie with Impala Skate, shoes and accessories with Aldo, a one-of-a-kind Barbie Dream House shaped XBox, OPI nails collection, NYX Cosmetics line, Pinkberry Barbie flavours (strawberry and dragonfruit, if you're interested), Barbie luggage, Barbie boat cruise, World of Barbie experience in LA *BREATHES*

CHECK, CHECK, CHECKITY CHECK CHECK!

And that's not even all of it. I am being bombarded in the best way. Forget Wednesdays, we wear pink every damn day! Is any of it particularly groundbreaking in a creative way? Maybe not, but it is big, bold, and unashamedly Barbie to the point where I am now hyped beyond belief and will be hitting the cinema with friends to see the damn movie. A true masterclass in knowing your brand and where your audience is.
Well-played Barbie team, well-played.

(Lead image credit: AirBnB press room/Hogwash-Studios)
Dobby is a free Elf
Any Harry Potter fans in the room? You're going to love this perfect stunt from LEGO Group and the team at MHP Mischief!

To celebrate the launch of LEGO's limited edition Dobby set there was only one way to generate the hype it deserved - giving it away for free (ish).
You can buy Dobby with socks (if you know, you know) in a simple stunt that is easy to understand, fun, hits the Potterhead and LEGO audiences brilliantly, and saw fans join a queue Apple can only dream of now. Love it!
My only question is…what happens to all the socks?!
Yesterday at the flagship #LeicesterSquare store, @LEGO_Group paid tribute to Dobby the House-Elf on his Birthday, taking payment in socks for the first time ever! 🧦🧙

Check it out 👇

🔗 - https://t.co/1ZEbzg8vHY#adcampaign#advertising#marketing#campaignpic.twitter.com/FwvbW3f12e

— Trending Now Ad Campaigns (@TNAdCampaigns) June 30, 2023
SpongeBob LushPants
No, I haven't named a new porn star, it's a nod to another cool brand collab spotted this week, by the teams at Lush and SpongeBob SquarePants.

The new products, including soaps, bath bombs, and shampoo bars, launched globally yesterday, and are flipping adorable. There's a serious reason for the partnership too - Paramount's SpongeBob SquarePants: Operation Sea Change campaign, a global ocean conservation and sustainability initiative, kicked off last year, and this collab with Lush is part of a push to raise awareness of plastic waste in our oceans.
It's a perfect match-up - Lush is 60% plastic free across all its products currently, and its customers are typically younger people who are actively trying to spend money with brands that are cause-driven on climate change.
Given Lush is no longer on social media, it's interesting to see a #spongebobxlush hashtag on the promo material, but I'm sure it will see plenty of engagement as people start receiving their orders.
That's it from me! I'm off to dream I have a Barbie budget for all my clients. Ciao for now!
Ready to dive in? All your Bikini Bottom friends have officially arrived! Explore the full #SPONGEBOBXLUSH collection, exclusively at Lush. @SpongeBobpic.twitter.com/kajmHDo0Vr

— LUSH UK (@LushLtd) June 29, 2023
And finally, it's the Creative Moment Awards deadline day today!
So, if you fancy being recognised and awarded for your exceptional creative campaigns and hard work across inspired, innovative creations, you have until midnight to submit your entry and bag one of these beauties - a coveted Creative Moment bolt!
You can enter here! Good luck.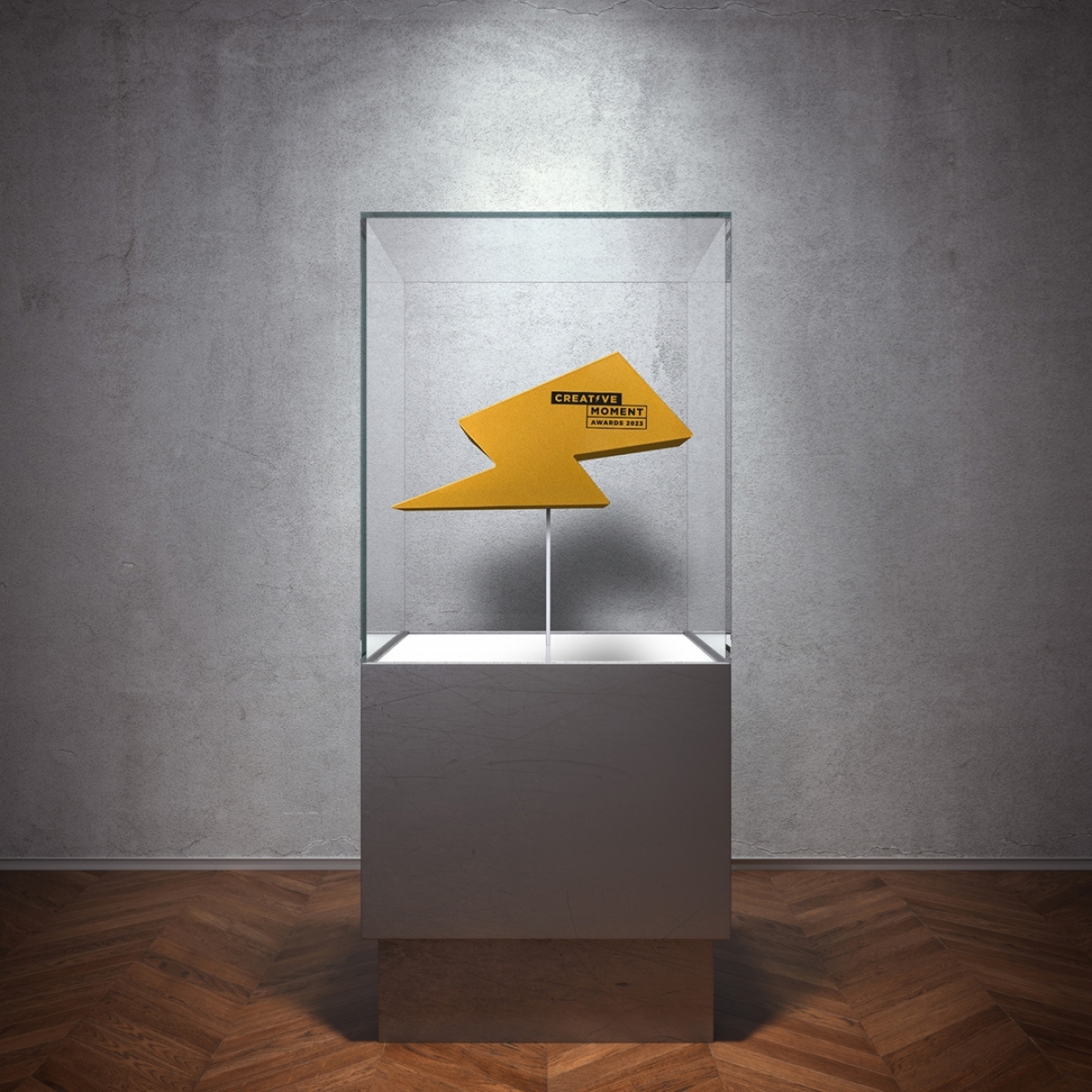 If you enjoyed this article, you can subscribe for free to our weekly email alert and receive a regular curation of the best creative campaigns by creatives themselves.