Did WeRoad's billboards entice UK commuters to escape the May bank holidays?

Has solo travel company WeRoad found its creative footing? With two OOH campaigns under its belt this year, it certainly seems promising.
With a penchant for talking to and attracting millennials, and by plastering persuasive messages across a 48 sheet, it has found success not only by hijacking the mundane everyday commute but also the more recent string of May bank holidays that we've been treated to.

Both billboard campaigns were devised to promote the exciting promises of global exploration and the freedom of travelling alone (only if you're brave enough).
And its service?
They'll get you there and even give you travel buddies to enjoy it with (choose from anywhere in Europe or Asia through Latin America and Australia).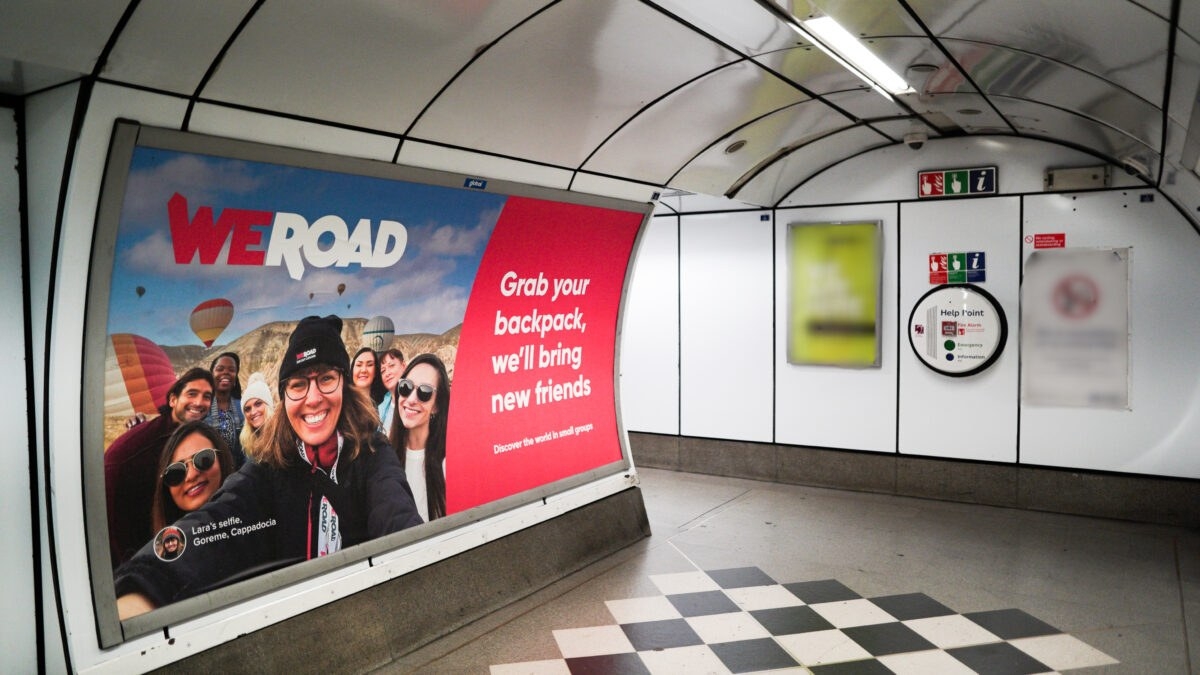 The first OOH launched in March.
It cleverly ditched expensive casting and production, instead opting for content generated by its customers.
Proving people do really travel with them, WeRoad used snaps (mostly group selfies) taken from recent trips around the world as its lead billboard visuals. These were posted by who they call, WeRoaders—people who have embarked on solo adventure, yes, with complete strangers.
These emotive images appeared alongside the tagline 'Grab Your Backpack, We'll Bring New Friends' and went live across six key European cities, with more than 3,700 ads visible in London.
The second, whilst still creative in concept, could be criticised for lacking imaginative visualisation. This time, WeRoad changed tact, swapping holiday snaps for text.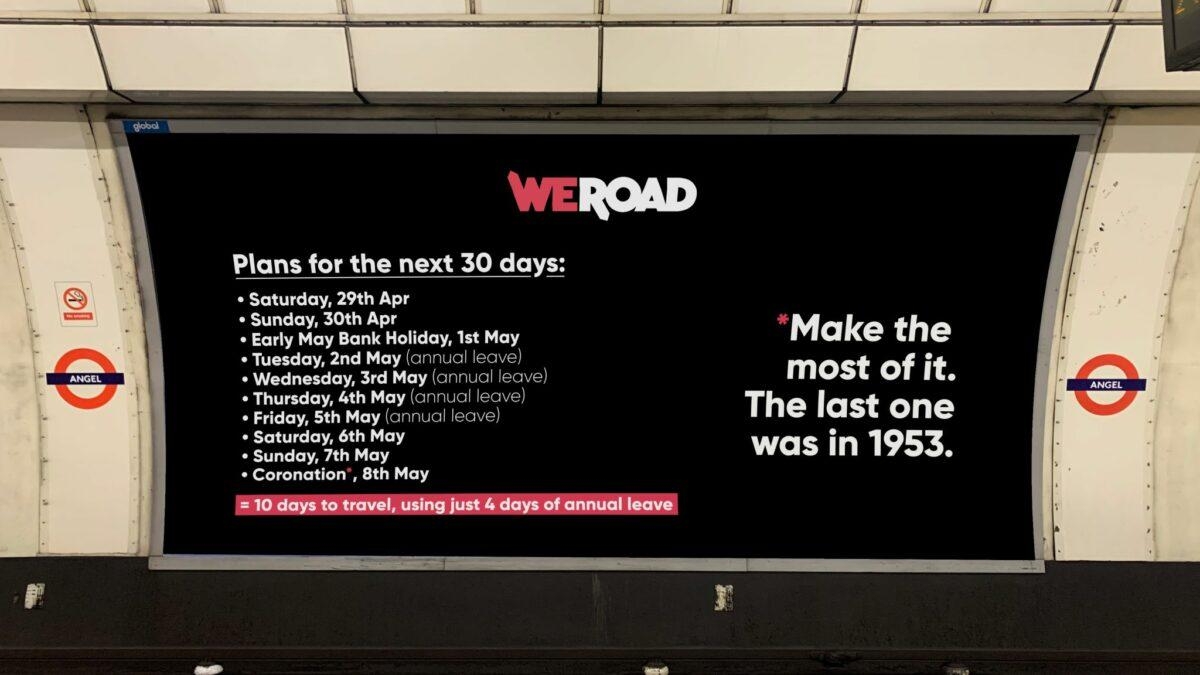 Did this strategy hold as much impact as its predecessor?
Well in terms of timing, yes.
Whilst other brands piggy backed the King's coronation and worked to bring people closer to it, using the UK and its heritage as a draw, the novel travel brand did the total opposite.
It used its ad spots to encourage people to 'move' away from it, quite literally. Its London OOH campaign was a cheeky reminder for commuters to make the most of the additional British bank holiday by booking a trip away, since the last time we had this chance was back in 1953, apparently.

The ad concept mapped out, in a uniformly written list how to achieve a ten-day holiday that burnt only four days of annual leave.
Magical, right? Maybe not.
Hijacking that commuter space was an opportunity to lift people away from their expected every day, not to present a wall of words. To create an exciting escapism if you will.

So, did showing a list and cleverly written slogan achieve the escapism it hoped to?
Did seeing a copy-heavy billboard instead of an aspirational travelling image, allow travel seekers to imagine packing it all in and jetting off?
Could they get a sense of what buying into an adventurous and unique holiday experience could look like?
I'd argue not; there was no fantasy, just functionality and tactics for extended annual leave.
We missed the emotion, the exciting peek behind the curtain of what travel with complete strangers could look like.

With summer ramping up, I'm poised to see what else comes from the millennial favourite. Will a third billboard instalment combine the art direction from the first OOH with the copywriting from the second to create an unavoidable call to action that leads me to quit and cram my life (temporarily) in a rucksack?
Only time will tell.
If you enjoyed this article, you can subscribe for free to our weekly email alert and receive a regular curation of the best creative campaigns by creatives themselves.