Domestic violence charity ANAIS and Cheil Romania create the #IsolateViolence campaign to raise awareness of abuse during lockdown

BOAST is a place where you can find out about recent creative campaigns.
It is a space where agencies can tell us about the new work they are proud of; blowing their own trumpet, so to speak.
Here's the latest from the creative world as we know it.
A campaign by Cheil Romania
Cheil Romania is continuing to support the work of ANAIS, the anti-domestic violence association, with a new campaign that warns of the dangerous escalation of abuse that the lockdown has already incited.
Three heartbreaking new films and three new print executions all carry the hashtag #IsolateViolence and urge people to call the emergency services if they hear anything suspicious.
A dedicated website, www.izoleazaviolenta.ro has also been set up.
The films take the statistics and graphics that have become familiar on the news in relation to the coronavirus epidemic, and provide an alternative version that highlight the increase in domestic abuse that inevitably occurs in parallel with the spread of Covid-19 and enforced social isolation.
Three print versions provide a chilling twist on the images of the virus under the microscope that we are accustomed to seeing on the news and in public information films, again carrying the #IsolateViolence hashtag and an appeal to call the emergency services.
While social distancing is massively helping the overburdened healthcare system, another dangerous virus is spreading in people's homes.

Domestic violence has registered a surge as those with an inclination towards abuse are spending more time in uninterrupted contact with their victims.
Sometimes in the same room, as more than 55% of Romanians live in overcrowded homes, according to Eurostat.
One million Romanians (out of a total population of 19.5 million) has entered technical unemployment status because of the lockdown. Every 30 seconds a Romanian woman is beaten, and 30% have been physically or verbally abused from the age of 15. In the current pandemic, these numbers will increase.
Troubling times for women locked away with violent partners
Carmen Nemes, president of ANAIS Association, said: "These are indeed very troubling times for everyone, but the plight of the women locked inside an apartment for weeks on end during curfews next to a violent partner is particularly dire. We want to inform society about the issue and we urge the authorities to intervene promptly when any act of violence is reported."
Mihai Gongu, Executive Creative Director at Cheil Romania, said:"At Cheil, we have always been fully committed to doing good with data and helping communities with work that changes behaviour for the better. This campaign was the first work produced since the agency switched to working remotely, just like our clients and production partners."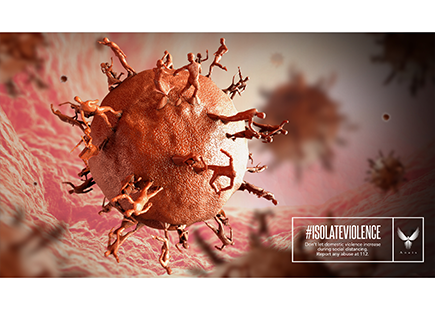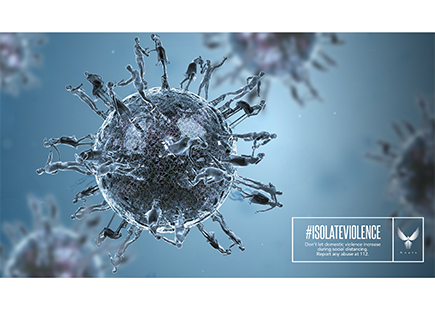 Credits
Agency: Cheil Centrade
Executive Creative Director: Mihai Gongu
Group Creative Director: Roxana Nita
Art Director: Victor Trifan
Copywriter: Robert Ghita, Alexandru Iliescu
Sr. Account Manager: Ana Maria Radulescu
AV Director: Monica Garbur
3D Designer: Marijus Pudar
Client Service Director: Carmen Miruta
Post Production Studio: Chainsaw Europe
Post Production Producer: Raluca Iutes
VFX Editor: Dragos Tanase
Sound Designer&Editor: Andrei Vasilache
Actor: Alex Tuhut
Child VO: Mathea Ghinea
Actor: Dana Tapalaga
Actor: Radu Banzaru
Client Team
President, ANAIS Association: Carmen Nemes
Executive Director: Mihaela Mangu
Attorney: Giulia Crisan
Psychotherapist: Adela Szentes, Ligia Moise
Social Assistant: Petruta Stefanica
Social Assistant: Roxana Calin
Breakthrough branded content initiative
ANAIS Association and Cheil Centrade have begun their collaboration in March 2019 with the release of "Unquiet Voices".
This is a breakthrough branded content initiative in which actual survivors of domestic violence gave voice to scenes of violence in century-old silent movies made available for public domain use.
If you enjoyed this article, you can subscribe for free to our weekly email alert and receive a regular curation of the best creative campaigns by creatives themselves.