Dove and LinkedIn create a provocative campaign about what hair types are 'professional'

What is 'professional'?
Dove's partnership with LinkedIn aimed at creating more inclusive spaces for Black hair has birthed a provocative campaign that works to quiet the negative and harmful perceptions of what hair types and styles are "professional".
The ad's lead in is, "Same strong resume. Same qualifications" and the accompanying powerful visual of a Black woman whose hair (with the use of a side-by-side) is seen long and straight to the left and in the faux loc style on the right.
The contrasting styles, for me, created a visceral response.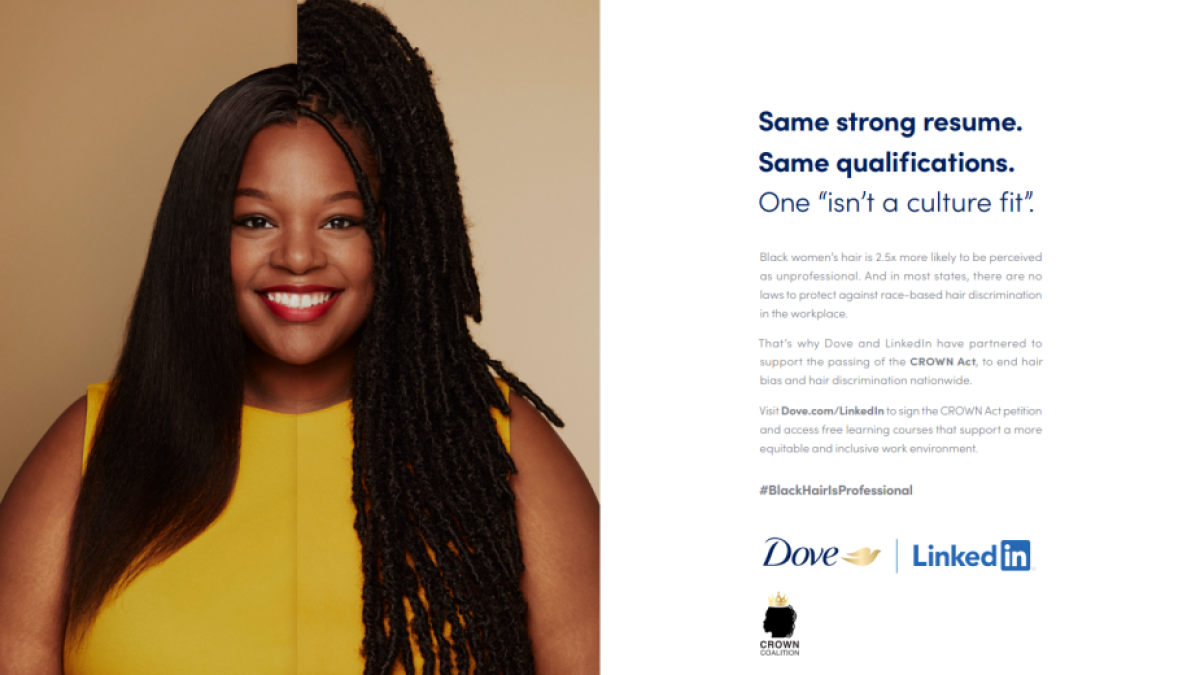 A personal introspection.
As a Black man living in the metro New York City area, it has become commonplace to see Black women making the conscious effort to wear hair styles that send messages linked to culture, heritage, and resistance.
The Dove spot quietly captures this messaging and brings it right to the centre of the page. Dove has been extremely successful in challenging beauty norms. The partnership with LinkedIn and the creation the CROWN Coalition continues to disrupt, and by default demand more from mainstream culture. Dove co-founded the CROWN Coalition to advance anti-hair discrimination legislation called the CROWN Act.
As a human resources executive with over 25 years of experience, the Dove x LinkedIn campaign has forced some of my own personal introspection around how we, as members of the African diaspora, feel comfortable "showing up". The often negative repercussions we face in rooms and spaces that have lagged behind the communities they exist in and are often marketed to and benefited from with regard to broader understandings of professionalism and other norms.
Bias (unconscious or otherwise) is real.
The campaign also incorporates Dove's broader mission to expand beauty standards by using darker skinned women with body sizes that more realistically represent the world-at-large. This dynamic also quietly changes the visual stakes of the ad, creating an even sharper contrast.

It feels like the ad is begging a larger question of not just what hair styles are deemed fit for workplaces, but what kind of people.
The Dove and LinkedIn partnership is the perfect alignment of beauty and brawn.
Dove is a leader in offerings and messaging that says all beauty matters and LinkedIn is the largest professional networking site on planet. There are obvious synergies here.
LinkedIn with its video and photo functionality forces its members to visually present themselves without racial or cultural context. If the efforts of Dove and LinkedIn can challenge and normalize a broader, more encompassing professional standard that includes hair styles, hair types, head coverings and clothing then the collaboration will have been a success.

The partnership and resulting campaigns are most definitely a step in the right direction, but the headwinds of institutional racism and bigotry are still strong.
There are still large subsets of cities, states and industries that openly choose to view what's "professional" through one extremely narrow and broken lens.
The Dove x LinkedIn pairing is audacious.
The discussions around Black hair historically have been relegated to beauty salons and kitchen tables. Black and brown women have always been burdened with shedding parts of themselves to gain job opportunities and advancement. Dove and LinkedIn's shared mission will help close the gap between the manufactured corporate cultures and lived experiences of their teams— even if its baby steps.
The campaign is equal parts head and heart. The emotions that the images and copy stirred were offset by ideas on how HR professionals and I can use our spheres of influence to champion these assumptions.
Dove and LinkedIn have heard the call created by the seismic changes sparked by so many recent events. "Crowns" off to brands like Dove and LinkedIn that have chosen to use their influence in ways that are almost totally altruistic.

If you enjoyed this article, you can subscribe for free to our weekly email alert and receive a regular curation of the best creative campaigns by creatives themselves.