Global Creativity Highlights: LEGO Friends, Little Tikes and The Rules Of War

Time to once more take a quick look back at some of the creative goings on across the world in the latest edition of Magpie, a quarterly compendium of handpicked choice cuts from some of the things that have got the team at Hope&Glory talking over the last few months—and what a few months it has been.
A real mix of the traditional, the not-so-traditional, and the downright obscure, with creativity coming from a genuinely diverse range of people and places, you really wouldn't expect.
So, in this edition of Magpie (issue five, no less), you can get your teeth into clever purpose-driven ideas from the likes of The Red Cross and its TikTok influencer-centric blood drive through to bizarre desserts, cult music and tv culture clashes, and sneakers made from a living lawn (no, seriously).
But for a sneak peek and your reading pleasure, here are three of our favourites written up for Creative Moment. Some you may have seen before, others you may be unfamiliar with, but all have sparked conversation and fuelled our collective passion for the curated weirdness of the world.

Kids Toys, Adult Issues
First up is something firmly on the esoteric end of the weirdness scale courtesy of inventor and engineer, Andy Sahlstrom. He released a rather extensive range of handmade products in the inimitable style of Fisher Price, but with a darkly comic twist, launched under the fake moniker "Little Tikes".

Created in his Brooklyn-based studio, the unique collection features a seemingly endless production line of 'stuff', ranging from "The Little Tikes Play Kitchen" stripped bare to resemble a prison visitation booth, to the "Cozy Coupe" converted into a Cozy Hearse with space for a coffin.
Not to mention the Turtle Sandbox (come ashtray), "Electric Rocking Chair", plastic effect "Knuckle Duster Switchblade", and our personal favourite, TNT, that helps teach your little-uns how to tell the time.
Launched as scaled-down, 3d-modelled and printed sculptures as part of an art exhibition, the pieces have been selling like hotcakes for a few hundred dollars a pop. And have become somewhat collectable art pieces, having initially gained traction among Reddit users worldwide before making their way across Instagram feeds and global creative and trend media worldwide.
Here's hoping they won't find them in a children's toy shop anytime soon, but if you fancy bagging a piece to add to your personal art collection, check out the full range via Andy's Instagram.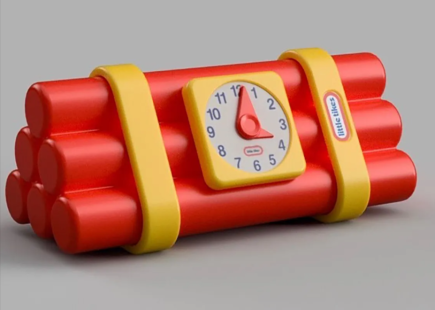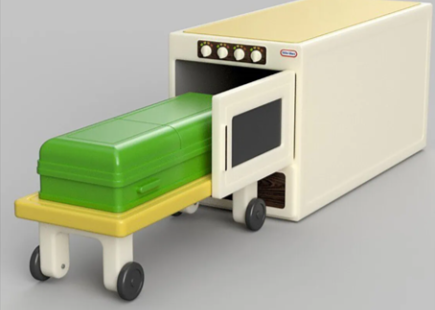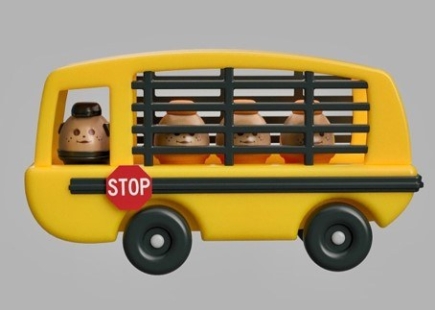 LEGO® Friends
We're sticking with the theme of toys but looking at a launch that was as wholesome as it was important in championing diversity—the newest iteration of the LEGO® Friends collection really caught collective consciousness.

Aimed at bringing to life LEGO®'s raison d'etre of the inclusive power of play, the launch of five diverse new characters featured iconic LEGO® Minifigures with vitiligo, ADHD, social anxiety and Down's syndrome. The collection also featured a wider variety of skin tones, cultural backgrounds, disabilities and neurodiversity to more authentically show friendships in the modern world.
It physically launched with world-building sets at retailers and digitally through a video series based on research conducted by the Danish toy manufacturer that found 68% of the 18,000 children aged between six and 12 in 19 countries polled want toys to better reflect real life.
Its approach to creating products and content that introduces kids to "authentic, interesting and passionate characters" in such a consistently impactful way is impressive, to say the least.
A beautifully executed piece of work delivering a continued positive message of inclusivity via one of the world's most loved brands.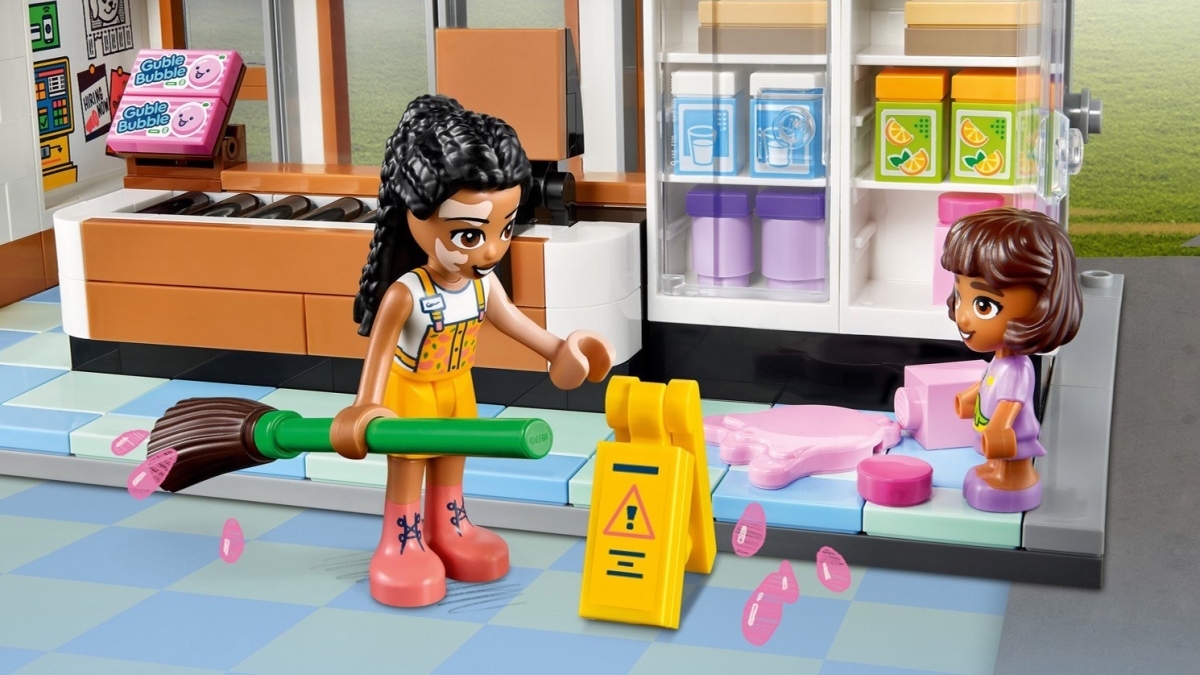 Rules of War
And finally, time for something completely different.

With armed conflict still rife in society, not just in Ukraine but worldwide, the International Committee of the Red Cross (ICRC) shone a light on the virtual battlefield to raise awareness of the devastating consequences of real-life warzones.
Currently, over 100 armed conflicts are being fought globally. With public conversation increasingly acknowledging them, ICRC saw this appetite for discussion as an opportunity to educate people on the 'Rules of War'.
With First Person Shooter games being the most played genre globally, gamers everywhere experience a distorted version of war from their home comforts – a stark contrast to the reality these games are based on.
To bring the reality of war to the forefront, ICRC challenged five top Twitch streamers to play by the actual Rules of War across the most popular FPS games, from Fortnite to Call of Duty: Warzone.
Each player was tasked to not break the four Rules of War:
1. No thirsting (thirsting means to thirst after kills or stats in the game)
2. No targeting of non-violent non-playable characters
3. No violence in civilian infrastructures
4. Use med kits on everyone.
The result?
An online event that not only brought together the top names in the gaming industry but shared a powerful message on preserving human life.
Who knew gaming could pull on the heartstrings like this?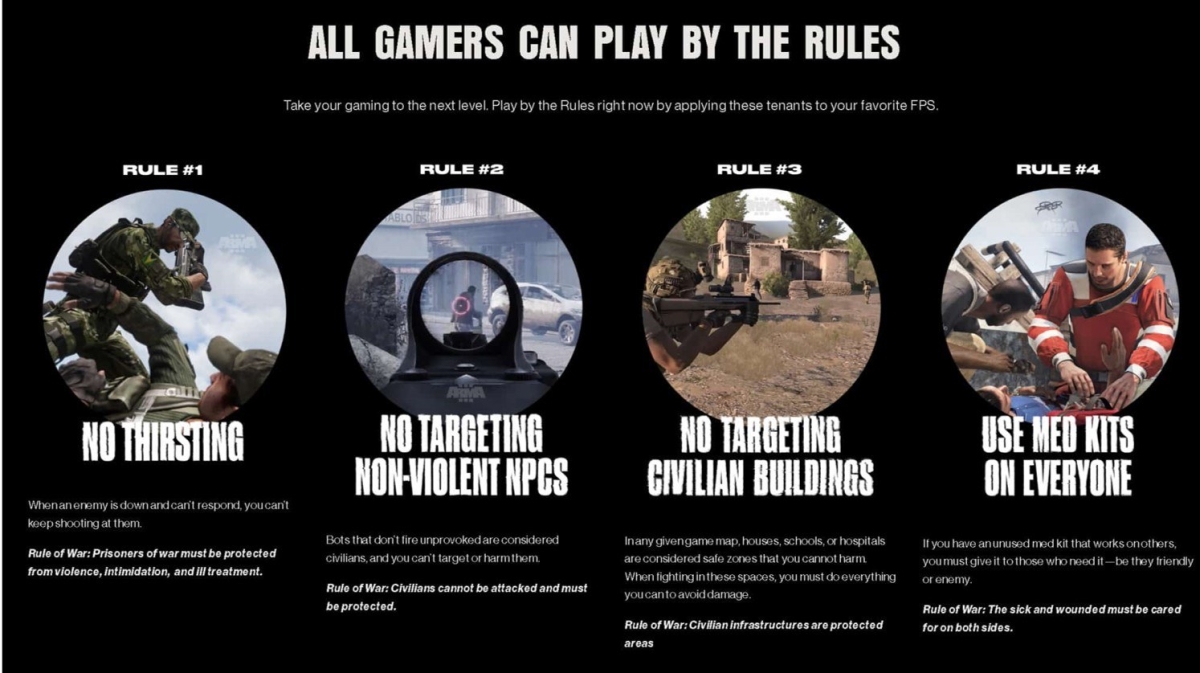 If you enjoyed this article, you can subscribe for free to our weekly email alert and receive a regular curation of the best creative campaigns by creatives themselves.