Goodfellas stands up to crimes against pizza on behalf of the nation

Show pizza respect or else…
Goodfella's, the frozen pizza brand, took over a London billboard turning it into a warning of what happens if you don't give pizza the respect it deserves.

Pizza-crime-perpetrator Kevin was tied up to a chair 15ft in the air, with mouth and hands taped, for the crime of succumbing to the TikTok trend of putting bananas on his pizza.
Pizza lovers gathered, in BOX Park Shoreditch, to take pictures and videos of the billboard as the Goodfella's' Godmother put on a display, warning Brits of the consequences of disrespecting pizza.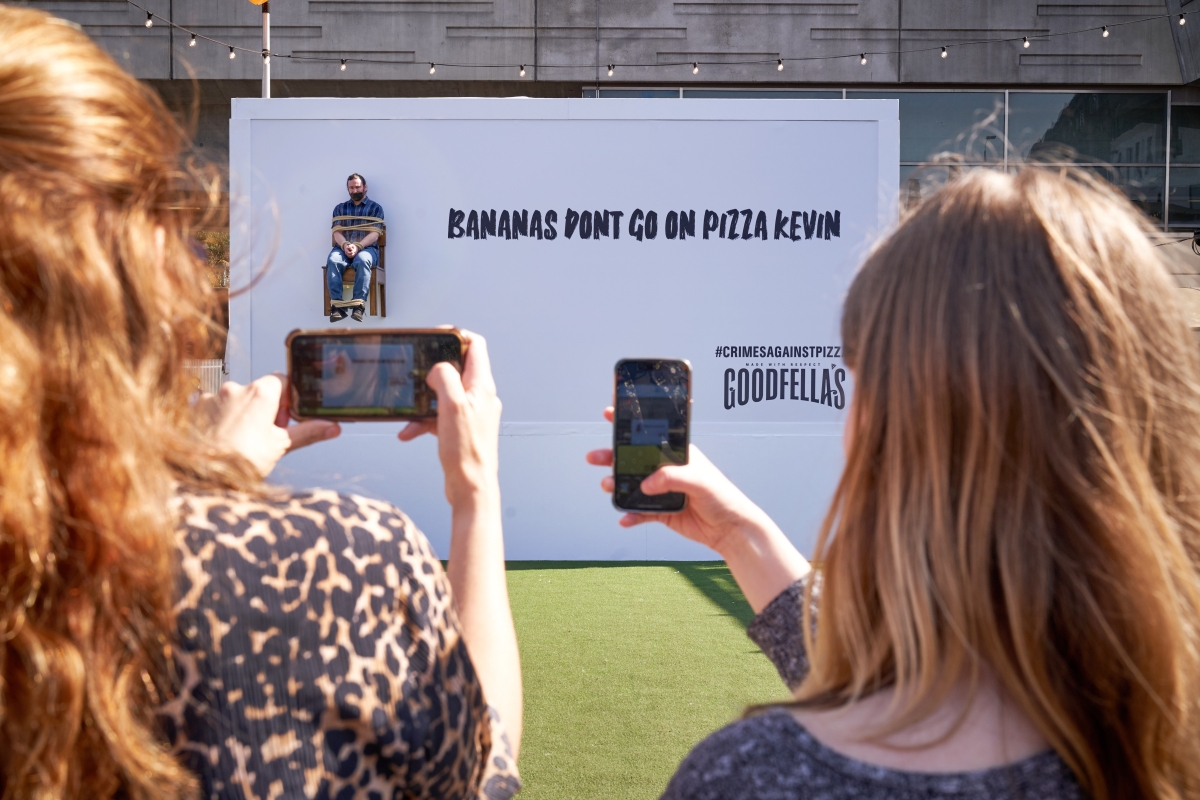 The seven deadly pizza sins.
It comes as a new study by the brand revealed the nation's preferred pizza passions, and in doing so they have unearthed some of the UK's biggest crimes against pizza which they're ready to call out—in the name of respect.
The study, which surveyed over 2,000 people across the UK[1], found the UK's seven deadliest pizza sins, to be[2]:
1. Soggy crust (23%)
2. Burnt crust (16%)
3. Not enough cheese/No cheese (15%)
4. Eating it with a knife and fork (12%)
5. Eating it cold (11%)
6. White base pizza with no tomato (10%)
7. Dipping it in ketchup (9%)
When it comes to toppings; vegetables on pizza and Four Seasons-style toppings are ranked bottom of the pile for favourite pizza toppings. Other unpopular toppings include anchovies, pineapple, and tuna, with nearly half (49%) of the nation agreeing all three toppings are 'a crime against pizza'.
Another pizza topping up for debate is banana, following a Roscoe's Pizza Facebook post that went viral after the restaurant claimed it to be a bestseller despite the questionable flavour combination. The post has over 3,300 comments with some declaring it as their 'favourite' and others adding 'This made me cry and I like pineapple on pizza'. But it's certainly piqued the nations interest as Google Trends shows a 300% increase in search for 'banana curry pizza' over the past year[3].
Whilst it was a tough call between the nation's favourite pizza base, thin took the win as it received majority of the votes (34%), compared to the deep pan (26%) and classic base (24%).

It's not just the pizza base that has the nation divided, but how we eat it.
With 1 in 8 saying eating a pizza with a knife and fork is a crime, a further 1 in 7 admit to doing so regularly. Whilst 1 in 7 admit to folding their pizza when eating it, just 1 in 20 think it's one of the biggest crimes you can commit.
These 'crimes' aren't something to be sniffed at as the study showed over a quarter (27%) of respondents said they would either be concerned about their compatibility or would feel less attracted to a partner if they committed 'a crime against pizza'. A further 28% admit their pizza bug bears have caused arguments with friends (10%), avoiding someone (10%) and even splitting up with a partner (8%).
Commenting on the findings, Sam Dolan, head of marketing for Goodfella's said: "We all know pizza is personal, but some take it too far and Goodfella's has had enough. Goodfella's has been making pizzas with the utmost respect for 30 years. So, we know what makes a good pizza and what, most definitely, doesn't.
We're hereby taking action on 'crimes' committed against pizza and are here to call out any moment of disrespect towards pizza. Demonstrating the consequences of what happens when you disrespect it, courtesy of our family matriarch, The Godmother.
All crimes against pizza will be punished. You've been warned."
If you enjoyed this article, you can subscribe for free to our weekly email alert and receive a regular curation of the best creative campaigns by creatives themselves.