Lyrical love from Liverpool by Frank Cottrell-Boyce for Eurovision

I'm an absolute sucker for a poem.
In fact, I wanted to be a poet when I was 11, but my brother's girlfriend laughed her arse off when I told her, which somewhat derailed my plans to see if it really could be a job. Instead, I've inadvertently made it part of my actual job.
Some of my favourite campaigns to have been part of have included poems, like this and this. So OF COURSE I was going to like Frank Cottrell-Boyce's Eurovision poem, even though I've never watched Eurovision in my life.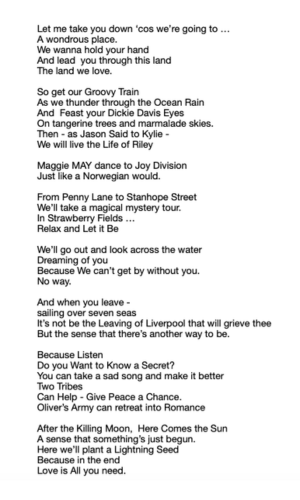 For starters, I was working in Liverpool shortly after the war broke out, and the blue and yellow flag was already flying high above St George's Hall. People were wearing IMAGINE badges. If Eurovision couldn't be held in Ukraine or nearby, it was, for me, fitting that Liverpool won the bid to be substitute host.

I love that the poem's clever, without having to tell everyone how clever it is.
Much like the city, it was written for or rather by, and much like its writer, who basically single-handled won Alumni University Challenge. Frank Cottrell Boyce described it as 'more a puzzle than a poem'.
It's not just about having fun picking off which line is whose lyric, though. I love that the poem is lent lines from Liverpool, the same way Liverpool's being lent to the people of Ukraine. The poem has that Irish sensibility of a heavy appreciation for words, lightly worn.
Finally, they got Ricky Tomlinson to read the poem.
You're not short of speakers and storytellers in and from Liverpool. With the demeanour of someone who'd rocked up to a rally after work, Ricky was a choice for the people.
It may or may not be the best thing Frank Cottrell Boyce has ever written (remember he was responsible for the 2012 Olympic opening ceremony) and I'm sure you can name some lines that didn't make the cut and should have. But for me, this poem hits just the right note.
PS: Just as I was finishing this, I saw Ketchum creative Wojciech Glomski's project where Liverpool's buskers have lent their spots to Ukrainian musicians for the week. Poetry in motion.
If you enjoyed this article, you can subscribe for free to our weekly email alert and receive a regular curation of the best creative campaigns by creatives themselves.