Maybelline's giant tube lashes: does it matter if it was real or not?

Media placements that aren't actually real are nothing new, but the recent hype around Maybelline's latest campaign took it to the next level.
In case you missed it, Maybelline put giant lashes on a tube train and bus to promote its Sky High Mascara and show the ultra-flexible brush in action and the video did the unthinkable and went…(insert the v-word).

Why? It was weirdly mesmerising and a bit surreal - and that was, of course, because it wasn't actually real and was created by the very talented 3D artist Ian Padgham.
But, the question is, does it matter?
In this example, the ambiguity around whether it was real is arguably why it got so many people sharing, commenting and engaging with it on social (with the Instagram post racking up more than 40 million views). From some additional digging and IRL convos, some people didn't care that it wasn't real, others felt a bit disappointed when they found out, and some even felt a bit 'stupid' for mistakenly believing Transport for London allowed for a tube carriage to be booked in for a lash extension appointment.

Does it mean that we should stop making real ads? No.
Does Maybelline's success mean that we'll see a rise in mocked-up media placements doing the rounds? Maybe.
Let's look at some other examples.
Last month, Subway swiftly inserted itself into a 'billboard off' between McDonald's and Burger King with a ChatGPT-led creative by Saatchi & Saatchi. While the McDonald's billboard was in Brazil, the Subway ad was a mock-up. The speedy creative was praised and nobody seemed to mind that it didn't exist.
During Glastonbury, British Airways released an image of what looked like a billboard at Worthy Farm. People were quick to point out that it can't be real due to Glastonbury's longstanding commitment to limiting corporate partnerships and the social post was later deleted.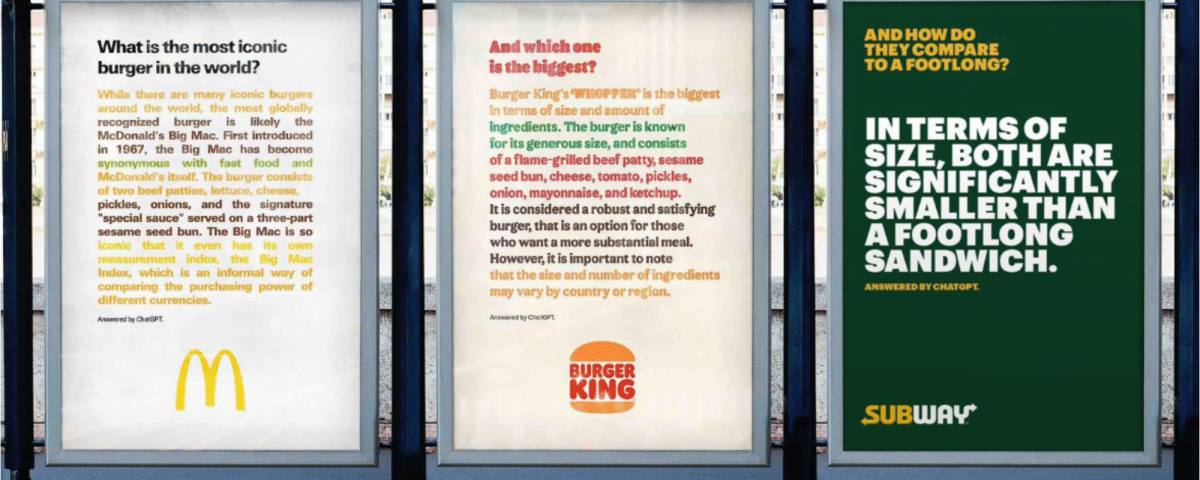 So, what's the conclusion?
From a purely creative standpoint, mocked-up media placements open up a world of possibility and most people outside of Adland probably don't care if an ad is real or not.

But from the backlash we've seen, context is everything, it's not a one-size-fits-all approach for all brands and there are different nuances to consider.
We know that transparency is one of the building blocks of trust and not being clear about whether something is real or not could mean inadvertently chipping away at brand love.
This also throws up the bigger debate around misinformation.
From deepfakes to AI to CGI, brands have a responsibility to ensure they aren't misleading anyone and there is a fine line to the murky waters of 'fake news'. Then there's the question of legality. While the legal system hasn't quite caught up with recent innovations, it won't be long before there are more parameters to work within.
My advice would be to play in the virtual world from a creative point of view but don't forget to stress-test it in the real world before sharing it further.
If you enjoyed this article, you can subscribe for free to our weekly email alert and receive a regular curation of the best creative campaigns by creatives themselves.