Plant-based bacon company presents personality-packed pink posters for World Vegan Day

French bacon brand La Vie™ launched a new OOH campaign for World Vegan Day earlier this month.
Displaying the bold, bright and very pink billboards the meat-free bacon brand has become known for in 2,000 locations across London, Bristol and Brighton, the newest campaign has been developed in collaboration with creative agency, Buzzman.

La Vie's embraces controversy and finds humorous ways to connect with consumers. After outraging the national pork lobby back in France with its similarity to traditional bacon, the brand harnessed the lobbies' anger and used humour to poke fun at the situation and showcase its products.
La Vie™ is on a mission to help as many consumers evolve from an animal diet to a plant-based diet with a smile on their face. The best way to do this, is by showcasing its mission in action and building its campaigns from a place of curiosity, intrigue and sparking conversations amongst vegetarians, flexitarians and carnivores across the UK, avoiding scare tactics and sad anecdotes.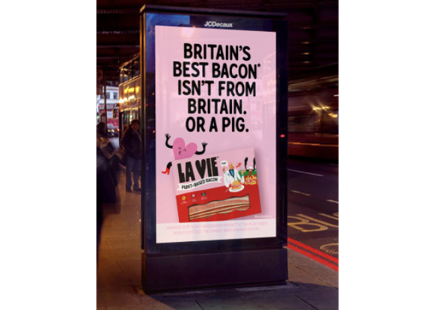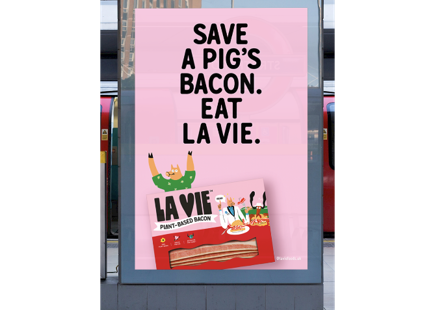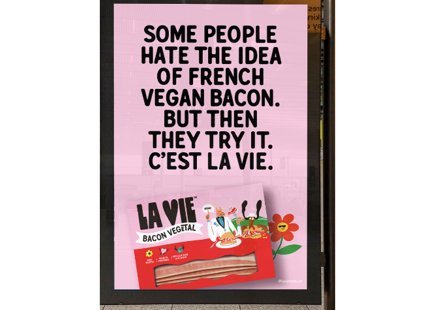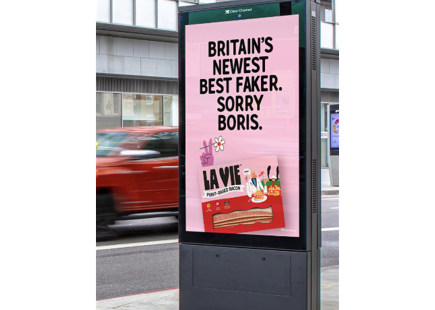 "LaVie™hasawildlydifferenttoneandpersonalitytootherbrandsinthemeat-freespace.Sincethebeginning,wehavebeenveryintentionalwithhowwewantedthebrandtobeperceived,andhowwecouldexpandonthatindifferentmarkets.Wehavealwaysbeenconfidentinourmarketingapproach,knowingitsetsusaside,butnow,seeingtheresponsefromtheBritishpopulation,hasgivenusthecouragetobeevenmorecreative,andcontinuetobuildourbrandasweexpandglobally," says Romain Jolivet, chief marketing officer of La Vie™.
After years of research and development to perfect a vegetable fat that tastes like meat, La Vie™ developed an award-winning, meat-free alternative that one in two consumers can't tell isn't pork.
If you enjoyed this article, you can subscribe for free to our weekly email alert and receive a regular curation of the best creative campaigns by creatives themselves.