SHIFT+K+F+C: The gamers' shortcut to their favourite meal

The Background
We've seen plenty of amazing gaming campaigns in recent years. Wendy's Fortnite campaign and the FIFA Burger King Stevenage Challenge to name only two.
But one possibly overlooked section of the gaming world are desktop gamers.
These are the true gamers, it's a 1.5 billion strong community, and they're committed to gaming.
So much so that they don't want to pause to eat, or so KFC tells us anyway.

Why?
Because they're far too busy upgrading their setups and learning the huge number of keyboard shortcuts available within games.

The Big Idea
KFC invented the quickest way to order your favourite meal, through a gamer-friendly shortcut—Shift+K+F+C.
The Review
KFC goes pretty big when it comes to gaming, from their KFConsole campaign through to the numerous esports partnerships and @KFCGaming channels. That helps this campaign feel natural for KFC, it's an area they've shown understanding of before and have a strong number of fans in gaming.

You have to admire the $0 media spend on this one too. Given its relationships with the gaming community, the campaign didn't require a tonne of paid media to fly.
The other smart aspect of this is the loyalty side of it.
Using the shortcut led to "your favourite meal" being delivered, and you only have that favourite meal on the system if you're part of the brand's loyalty scheme.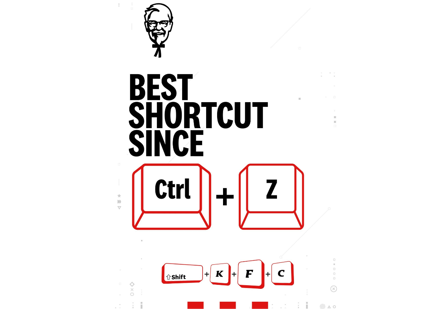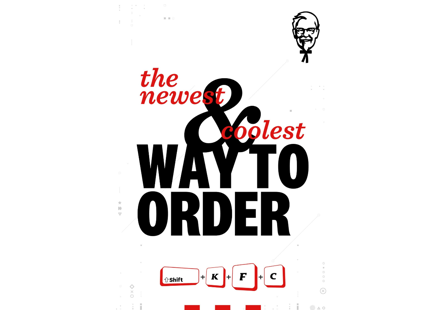 But it's not everything it seems.
To be honest, gamers are better off using a second screen or their phones to make these purchases.
For the code to work gamers needed to be on the KFC website, interrupting gameplay, even if only momentarily.
The idea's good, the execution pretty solid, but there's still a part of me left wondering—did this drive anything beyond a "oh, that's cool" reaction from gamers?

Beyond a reported 300% uplift in online orders made directly via KFC's website, there are no figures around this one. Likely due to the majority of sales actually being via apps like Deliveroo and Careem Now.
As part of the brands ongoing commitment to gaming however, it's an astute addition.
If you enjoyed this article, you can subscribe for free to our weekly email alert and receive a regular curation of the best creative campaigns by creatives themselves.