Sole Music: Literally putting the world of sound at the feet of the hearing impaired

While the 5% of the world's population who have disabling hearing loss can't hear music, they can feel it.
In fact, many hearing-impaired people today enjoy experiencing music with their other senses, e.g. feeling speaker vibrations through their hands, feet and bodies.
For the last 44 years, headphones have allowed most people to experience the joy of portable music, but there has been no equivalent solution for those with hearing difficulties.
Think of it as headphones for your feet.
Anghami – a music and entertainment streaming platform in the Middle East and North Africa (MENA) – partnered with independent agency ‿ and us® (founded in 2018 by Fadi Yaish) to create Sole Music, a next generation insole with integrated technology that helps the hearing impaired from all over the world experience music anywhere.
There are more nerve endings per square centimetre in the foot than any other part of the human body, which makes it sensitive to vibrations. Inserted into any shoe and connected via Bluetooth to a mobile music playlist, Sole Music translates music into tactile vibration, allowing the hearing impaired to feel the rhythm of the music through the soles of their feet, wherever they are.

Sole Music offers an entirely new way of experiencing music, and the vibration technology provides an immersive experience that reflects the sound wave patterns of each music genre. The response to this innovation has been overwhelming, with many people in the hearing impaired community describing it as a game-changer.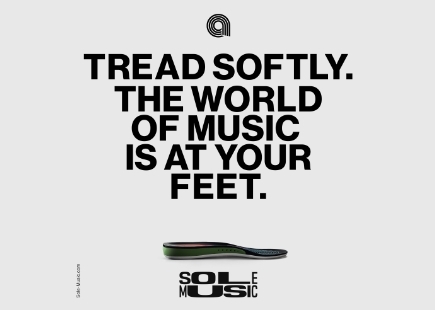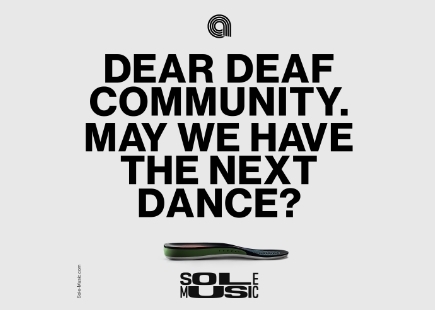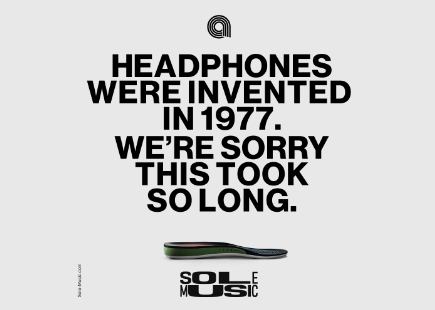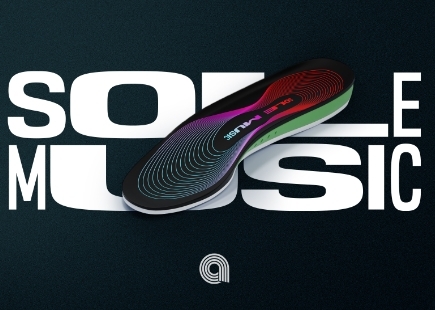 Ramy Khadi, Anghami's head of commercial, said: "At Anghami, we're dedicated to the principals of diversity and inclusivity for all. We knew that the hearing impaired community were enjoying music through vibrations via large speakers, often only in a limited number of venues where such a setup was possible. So when ‿ and us came had idea of making a truly portable listening experience, we jumped at the chance. It's the first step in democratizing the music listening experience which could empower millions of people in the deaf community to have the kind of casual relationship with music the hearing community often take for granted."
Fadi Yaish, founder and chief creative officer of ‿ and us Agency, said, "Music has the power to move nations – they're more than just songs, they're a unifying narrative that transforms the way we think, work and play. It's a gift that should be shared with everyone, regardless of whether or not they can hear it in a conventional way. Sole Music is what happens when the power of modern technology teams up with the unlimited potential of design. After two long years of development, we're thrilled to see this project come to life."
To support the launch of Sole Music, Anghami created custom playlists optimized for the technology and released a short documentary by highly acclaimed Egyptian director Maged Nassar, which tells the story of born deaf dancer Pierre Geagea trying the product for the first time.

Credits
Angfhami:
Head of Commercial: Ramy Al-Kadhi –
‿ and us:
Chief Creative Officer: Fadi Yaish
Executive Creative Director: Steve De Lange
Executive Creative Director: Jamie Kennaway
Executive Creative Tech Director: Diogo Borges
Associate Creative Director: Mohamed El Nagdy
Brand Director: Lama Halimeh
Jack The Maker:
Incrementalist: Ricardo Espada
No One:
Senior Designer: Mohamed Abou Khatwa
BlackBox:
Head of Production: Serra Chehade
Producer: Nadim Khoury
Good People:
Director: Maged Nassar
DOP: Joe Saadeh
Executive Producer: Khaled Zaki
Producer: Sara Touma
Producer: Aya Gaafar
ZANAD:
Founder/Director: Tariq Ali
Producer: Luna Mahgoob
LZRD:
Senior Colourist: Karim Mira
Baber shop studio:
Editor: Amr Rabee

If you enjoyed this article, you can subscribe for free to our weekly email alert and receive a regular curation of the best creative campaigns by creatives themselves.